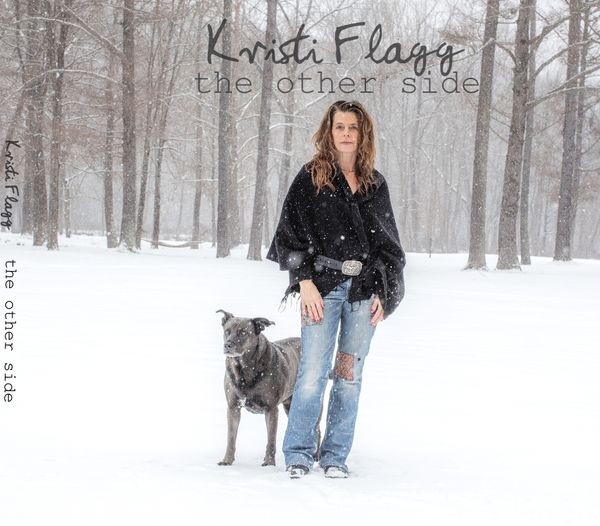 Kristi Flagg has a rich, musical history that included major touring and opening up for the likes of: Odetta, John Gorka, and the Indigo Girls. Kristi took a long, 25 year break from her busy schedule to focus on other things in her life. Then, in 2018 as if by fate, the microphone found Kristi Flagg and the magic of creating music was once again alive & well within Kristi. Kristi Flagg would go on to release her debut album titled 'Brave New View' in 2020 that received critical acclaim by many critics. Now, Kristi Flagg is back in 2021 with her second record titled 'The Other Side'. The music bug is planted and Kristi Flagg can't fight it or deny it!
Kristi's new release includes nine, standout tracks that speak volumes in terms of Kristi Flagg's singing and songwriting abilities. From beginning to end, the listener will enjoy the multiple layers of Kristi's well-executed songs. 'The Other Side' starts up with a track called "Driftin'" that will have you drifting away as you listen to the soothing sounds. With a laid-back feel and slow 'n' steady rhythm, "Driftin'" will satisfy your earbuds thanks in big part to Kristi's pleasant vocals. Next, we hear "Could it Be" that has such a huge appeal vocally & musically that pulls you right in with its sweet melody. Track three, "Heart to Heart", is just that with Kristi putting it all out on the table with a wonderful array of tender notes and heartfelt emotion. Moving along, the listener will get an incredibly calm "Stillness" from Kristi Flagg's commanding performance, so just sit back, relax and allow yourself to be consumed by the "Stillness". Track five, "Red Sun", gives off a bright glow and comfortable aura that can be enjoyed and soaked up by anyone. Changing up the pace a bit with "Rescue Me", Kristi Flagg decides to give the audience a cool, country-rockin' groove & beat. "Rescue Me" will have you clapping along as the infectious song will stick to you like Crazy Glue. Next, we hear "Nothing's the Same" that is packed full of feeling and one emotional number on the whole. Track eight, "Buckets of Rain", has Kristi Flagg making a big splash by singing from the heart and digging deep while also including a light-hearted tone for good measure. What a powerful finish and strong delivery by Kristi Flagg on "Find Me" that calls for celebration and a round of applause.
I am so impressed with Kristi Flagg and her musical talents on 'The Other Side' as she proves that she is a force to be reckoned with in the music industry. With thoughtful and creative lyrics, a shining voice and masterful playing, Kristi Flagg stands out in the crowd with her new release 'The Other Side'. It's also worth noting that Tracy Walton of On Deck Sound Studio produced this new record and what a fine production it is. I hope Kristi Flagg is here to stay for awhile because the music world could use more genuine artists like her. Kristi's sincerity as an artist is heard loud & clear, so now take a trip to 'The Other Side'.
https://kristiflagg.studio/home
By Jimmy Rae (https://skopemag.com/?s=Jimmy+Rae)