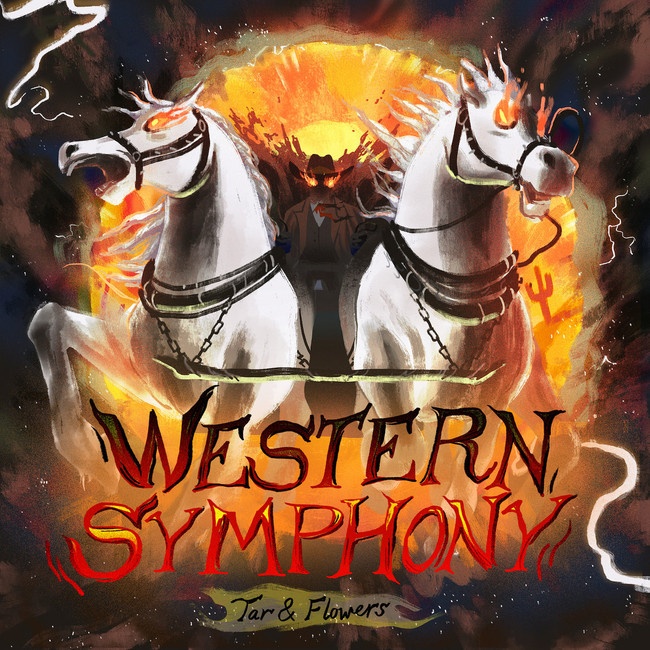 Tar and Flowers blooms with a majestic, classic sound on the expansive "Western Symphony". Sounds soar up into the heavens. A clear love for the psychedelic informs the entirety of the experience. Elements of spaghetti westerns, world music, indie rock, and ragas emerge throughout. By far the highlight comes from the soothing, smooth lived-in vocals that adorn each piece. With so much hope infused into the sound they embark on a wonderful winding journey. Lyrics have a poetry about them, ones that tell stories and set the moods for these atmospheric drifting compositions. So much color gets poured into them showing off their impeccable taste.
https://tarandflowers.bandcamp.com/album/western-symphony
Great exquisite detail enters into the fray with true vigor on the gigantic scope of "Overture". Drums keep a steady rhythm on the tender "Heaven When We're Home" with the guitar work adding to the sense of peace that his voice radiates. Instrumentally vibrant "Outward Boundary" takes from traditional fingerpicking work as well as far mor ancient traditions, giving the work a timeless approach that makes it the highlight of the album. On "What Was Again Shall Be" features a sense of triumph resonating throughout the experience. Layer upon layer enters into the mix on the western twang and slide guitar of "Spinning Gold". "Bailey Blue" strips things down to the essentials for an intimate joyous sound. Neatly bringing it all together in an intense way comes the powerful wall of sound that is "Home".
"Western Symphony" revels in a sense of purpose for Tar and Flowers features a worldview that feels quite epic.
Facebook: https://www.facebook.com/tarandflowers
Instagram: https://www.instagram.com/tarandflowers/