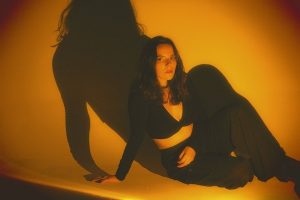 First off, tell us a bit about yourself. Who is Bianca Jazmine the person and the musician?
Well, in my case, Bianca Jazmine the person and the musician are so intertwined it's hard to separate those titles! I'm the type of person who leads on values, approaching all situations with empathy and compassion, but also with strength and intelligence. I am huge on balance and perspective, always intaking every side of a situation before coming to a conclusion. My sense of perspective certainly trails into my songwriting; even in the face of hard times I always find a silver lining and opportunity for growth.
What's the journey been like from when you started as a musician to now?
This journey has been so much more than gaining experience in the music industry. Throughout the years, I've grown so much as a person and really found my voice (no pun intended). When I started, I had a harder time setting boundaries with other people, both in my personal life and people I worked with, and I struggled to communicate my visions as effectively. As life threw its curveballs and I grew stronger, I started to express myself more strongly and clearly. Learning how to effectively communicate and stand up for myself really turned my path in music (and life) for the better, as I began to shed the patterns, people & thoughts that only got me further into my own head.
The music industry has been described as one of the toughest industries in the world, but it's also one of the most fulfilling when you're able to share your music and your message with an audience. What are some of the things that drive you and keep you motivated in the pursuit of music?
Pursuing a career in music has been the most difficult yet rewarding venture. It's tough, time-consuming, and sometimes downright unfair as a social industry; but it's all worth it when someone tells me that one of my songs helped them or made them feel supported. Music is healing, and being able to share that with the world is worth every "what-if" and obstacle that could get in the way. It brings us together as humans, crossing all cultures and differences; it's certainly an honor and driving force to be a part of that collective healing.
Let's hear about your new single, "Pain's Got A Rhythm". What's the backstory behind the song, and what's some of the message(s) you wanted the audience to draw from it?
Pain's Got a Rhythm is all about cycles and repetition. We can all insert our own story of a time we felt trapped, whether in a physical situation or in our own heads. This track details a saga of the mental health issues associated with these cycles, from the helplessness we feel when we perceive ourselves as out of control, to the waking moment we decide we don't want to live under those conditions anymore. I want listeners to absorb this vulnerable take on recognizing toxic patterns to shine on any that may be going on in their own lives, with the hopes of them feeling understood, but also inspired to take action to change their situation.
As a solo vocalist, what is the process / dynamic like as far as all the elements of the songwriting, production, and managing the affairs of your budding music career? Do you find yourself wearing many hats?
If I had a hat for all of the roles I play, my closet would be overflowing! Although collaboration is a large part of all my projects, I always try to have a hand in everything, from the obvious elements of recording and songwriting, to designing art & visual pieces, photographing & editing, managing, booking, and maintaining all public affairs. As an artist, there's so much more that happens beyond releasing music that non-musicians may not anticipate. It truly is a labor of love!
You recently released a killer music video for "Pain's Got A Rhythm", which had an incredible feel that was perfect for the song. It felt intimate at times, and simultaneously 'in your face' when it needed to be. What were some of your thoughts and ideas going into the concept of that video?
Thank you for the kind words! We wanted to keep the music video simple and straightforward to best capture the energy of the song. The close-up, intimate shots mentioned were a large part of this, almost as if the listener is leaning in to hear a secret being told. The topics explored in the lyrics are oftentimes the layers of ourselves we keep hidden deep underneath. These untold stories of our deeper selves are pulled to the surface with the videography.
Any last words / anything you'd like to share with the readers?
We are so excited to be embarking on a new recording chapter for an upcoming EP in 2022. Stay tuned online to watch this new journey unfold! You can follow us on Instagram at @biancajazminemusic.