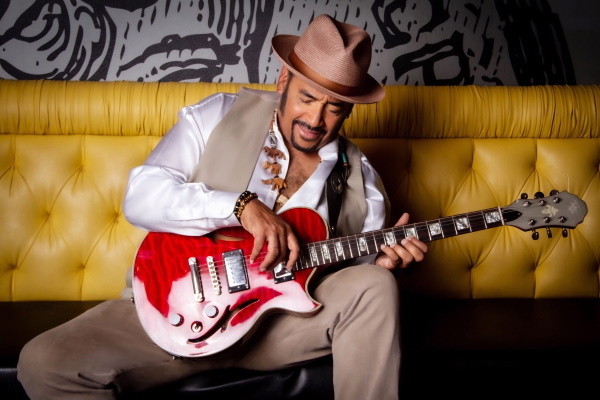 Randy Hall is a triple threat whose prowess as a guitarist, singer and songwriter has been known within the industry since he was a teenager growing up in Chicago. His latest release, Hall's shimmering ballad "Bring It On Home," is a seductive cut that showcases all his vocal range, moving from a growling, muscular baritone to a soaring high tenor/falsetto that touches the sky on a track that finds him asking the lady in his life to come and lay the days burdens and problems down at his doorstep. Check out "Bring It On Home" below and download the broadcast master to add it to your programming!
Musicians don't come more stellar, multi-faceted and gifted than Randy Hall, an ace guitarist, vocalist, composer, arranger and performer. The Chicago-native has been a highly coveted musician for several decades and a chart-topping R&B star in his own right and as a supporting player for an impressive, genre-defying resume of artists that began with The Staple Singers at age 15, The Dells, Ramsey Lewis, Roberta Flack, Diana Ross, Snoop Dogg, Dave Koz and – most definitively – the man who launched Hall as an international player with whom to be reckoned: the legendary Miles Davis.
In 2020, after decades away from recording his own music, Randy Hall has made an astounding return with two runaway hit singles on the U.K.'s Six Nine Records label. Hall recalls, "A year ago, a guy named Neil Pounds with the label Six Nine Records in London reached out to me on Facebook asking if I had any old songs lying around that I might like to put in the marketplace. I thought about it, went into my vault and sent him 'How Do You Want Your Love' which I co-wrote with Kevin Toney (founding keyboardist of the `70s soul-jazz band The Blackbyrds). Neil got right back to me and said he loved the song and wanted to put it out. I said, 'Cool, let me put a new mix on it.' Neil said, 'No-no, mate. I want to put it out just like it is!' I was shocked but a week later, the song was burning up the soul charts in the U.K. I had no idea I had that many fans there that remembered me. It went on to #1 in Paris, Germany, Brazil – all over. I'm considered old school now but they really love the sound of my music today."
For a follow-up, Randy came back with another song from his archive entitled "A New Way of Love," a song that channels the arranging mastery of the iconic Barry White with a building block intro, female background vocalists and some sophisticated harmonic surprises in the bridge. It, too, flew to #1 on the international charts, prompting Randy to set his sights on the American market.
A strategy to conquer America became even more of a necessity after another vault song he dusted off, "I Love What We Make Together," became a key component of a posthumous 2019 Miles Davis project, Rubberband, that also shot up the charts – this time on the jazz side. This is poignant because it was with Davis that Randy first sprang to international attention. First, Randy was a co-writer and player on the 1981 instrumental "Shout," the first song to reintroduce Davis after 6 years away with a splashy funky flair. Then Randy was the lyricist and vocalist of the album's mood-drenched title track, The Man with The Horn, a welcome back tribute to the legend that became a jazz and Quiet Storm radio classic. This was a huge honor because Miles almost never featured vocalists on his projects (the one previous exception being working with singer/songwriter Bob Dorough on the holiday novelty "Blue Xmas"). It was also quite an accomplishment because Hall was only 21 when that album was released by corporate giant Columbia Records.
http://www.instagram.com/randyhallmusic
The 2020 success of "I Love What We Make Together" (originally written with the late Al Jarreau as its intended singer), as well as additional Rubberband songs that feature Lalah Hathaway and Ledisi, all bring Randy back full circle to his roots.