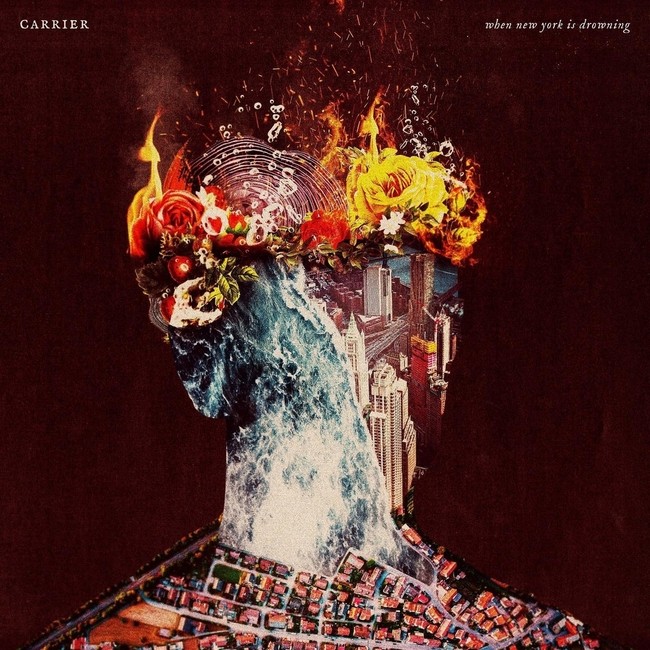 Some albums take a little time to grow on you, whereas others attach themselves and cling to you like a small child does to his/her mother. When New York Is Drowning is just such parentally bonding work. This Brooklyn-based act has created one crack-like addictive sonic substance with this one.
While the quartet's influences are all over the map, each one is also a prime tourist destination. For instance, the group borrows just a little from the Pixies for the loud/soft dynamic applied to "Little Fish." Another long one, "Incinerator," begins with driving drum rhythm, which introduces catchy guitar chords. At 5:06, it is a lengthy track. Its guitar solo, however, quotes the hymn "Amazing Grace." It's seemingly from of leftfield, but it still strangely fits.
Carrier is led by Adam Downer, but don't let his depressed sounding last name lead you to believe he is, well, some kind of downer. Sure, he gets angry and screamy in places during this nine-track release. He's mostly just filled with nervous creative energy, though, more than anything else. The band has been compared to The Strokes, and this influence shows its face on the recording's title track. It's a recording with a stripped-down guitar groove, with a Strokes-y, slightly lazy lead vocal. Bart Mol adds some cool electric guitar lines to this one. He's listed as "jazz guitarist' on the band's bio, but these are certainly not any jazz licks. In fact, one would be hard pressed to find any jazzy moments on the whole album. Maybe the band's bio is being ironic. Perhaps he's a jazzer outside his role in the group.
The album closes with "14 Stops," which also tips its had a tad to The Strokes. It charges like a locomotive, with alternating clean and screamed vocals. Its guitar lick is beautifully simple, lie a lot of Strokes riffs that just find a way to get under your skin.
https://www.instagram.com/carrierbk/
"Parade" is a track that reveals a little of Carrier's lighter, more melodic side. It begins with a lilting guitar line, which soon switches to a crunchier one. Another inspiration the band doesn't mention, though, is Weezer. "Someone Who Loves Me," however, sounds a whole lot like one of those early, emo-y Weezer heart-on-the-old-sleeve songs. Weezer inspiration is nothing to sneeze at.
Downer has given this project the collective-affected title of When New York is Drowning, but it is very much a personal album. It's the sound of a guy raging against the machine. It's not clear just what that machine is, but Downer is most certainly raging on this album – and in the most delightful way. Are you looking for a great rock album? Does much of today's current pop leave you unfulfilled? If so, Carrier is the right new band for you. It has plenty of memorable songs, hooks that will immediately grab you and sincerely emotional vocals. Be forewarned, though, this music might just grasp you like a small child and not ever let go. Chances are, however, you'll grasp it right back. It's just that fantastic.
-Dan MacIntosh