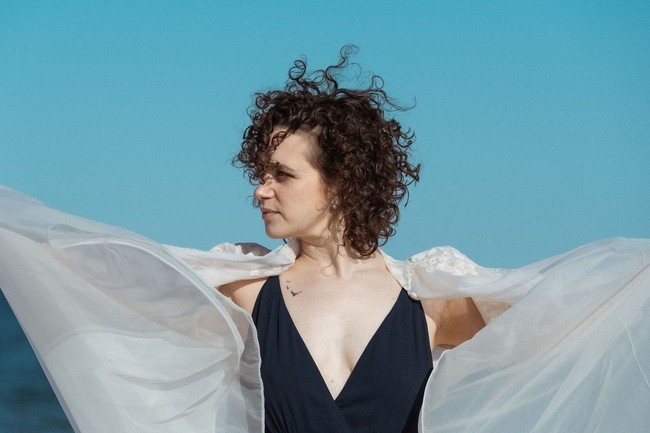 Americana/folk singer-songwriter Katie Callahan sat down recently with @skopemag to talk about her music and fabulous recent single, "Lullaby," from her new album. Here's part two of a two-part feature.
@skopemag: One of your recent singles, "Lullaby," is amazing. We love it — great sound and fantastic vibe. What is "Lullaby" about?
Katie: Thanks! It's a lullaby for myself. I wrote it just before our city went into lockdown, not knowing how hard it was about to get for so many folks, before virtual school or cancelled parties and missing family and so much worldwide grief and loss. Every time I listen to it, there are reminders of fortitude, of rest, and of releasing control that I need to hear.
@skopemag: Did the song come easily?
Katie: I began the song trying to imagine how somebody else needed to be comforted or seen, but it quickly became obvious that I needed to be addressing myself, and I just needed to name my own fears and insecurities and hold them with compassion. Louis Johnson (Lonas, Lone Waves, The Saint Johns) helped me narrow the focus to the most salient parts. It's simple, really: I see you, what you're doing is hard, and it'll be ok.
@skopemag: How would you describe your music? Who are your biggest influences?
Katie: I like to tell stories. I'm a folk singer who tries to turn herself inside out to make sense of things and hopes that other people feel permission to do the same.
I grew up in the evangelical church, so as a kid who was mostly allowed to listen to Christian music or the Golden Oldies radio station, I fell pretty hard for the band Jars of Clay in the late 1990s. They were "Christian," but they made space for doubt, for sadness, for lament, for seeking peace in ways that weren't reductive or diminishing. Their lyrics and honesty were what gave permission to pursue different kinds of subject matter. The contemporary folks I've spent the last several years with are Brandi Carlile, Penny and Sparrow, Joy Oladokun, and recently Derek Webb.