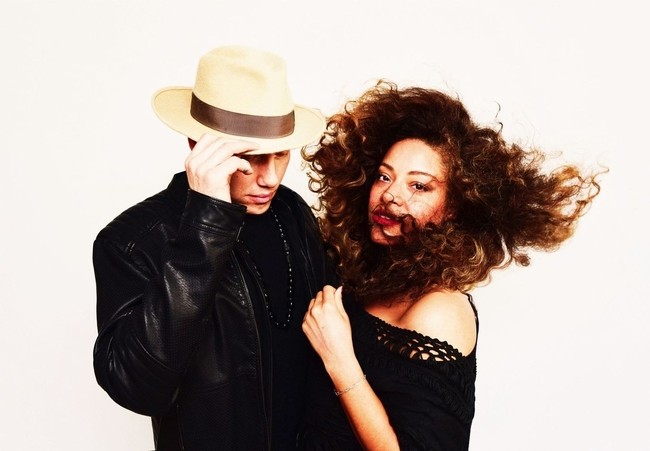 American roots/vintage R&B singer-songwriters Dwight + Nicole sat down recently with @skopemag to talk about their music around the release of their retro-sounding new EP, "Further" (out now).
@skopemag: Hi, Dwight + Nicole! Tell us about your new EP, "Further."
Nicole: We recorded the EP at Studio G in Brooklyn, NY with Joel Hamilton. It's a mini-album about the rollercoaster life we've been living over the last couple of years.
@skopemag: One of your singles, "The Next Go-Round," is amazing. We love it — great sound and fantastic vibe. What inspired it?
Nicole: Thank you! I wrote the song about someone who I will always love, but I can't have in my life. We were instantly connected — it was like we recognized each other from another lifetime. The breaking was as immediate and intense as the connection was. I'm coming from a place of heartbreak in this song, but with a silver lining. Maybe in our next life, when we meet again, we won't f*ck things up so badly.
@skopemag: How have the places you've lived played a part in your music?
Nicole: Brooklyn, NY and Boston, MA will forever be special to us; we grew up in those places, but Burlington, VT is home. We met Ezra, our drummer here, and it's here that we really came into our sound. I'm incredibly thankful and planting deep roots!
Dwight: We bought a house in Burlington this year. We turned the basement into a soundstage. Now we have our own space to rehearse and recharge, and the gratitude we feel every day here really drives us.
@skopemag: How would you describe your music? Biggest influences?
Dwight: Soul, blues, and rock & roll, with our own individual strangeness thrown in. Our influences reflect that: Mavis Staples, Dr. John, Irma Thomas, BB King, Willie Nelson, and Bobby Bland are a few. We love these artists because they all have their own unique voices. They dedicated their efforts to the craft. We have been fortunate to cross paths and share stages with a lot of our heroes. The great ones walk the walk.