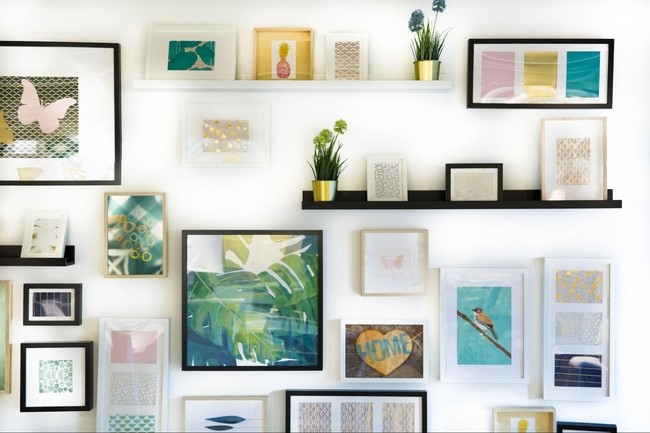 These days, having an attractive and cozy house isn't just about a well-decorated indoor space. Unlike before, where outdoor walls are often left untouched and disregarded, the current trend of home design is making sure every corner of the house, in or out, isn't left behind.
And honestly, why did this trend come so late? According to a siding company chicago, there are plenty of things you can do with your outside wall, and there's a lot of space where you can freely express your creative freedom! It's worth paying attention to, and this is your sign to start giving life to this portion of your home. Not quite sure what to do? We've got you covered. Here are some creative ideas you can follow to help brighten up your dull-looking outside wall.
Pop some colors with waterproof canvas art
Too tired to have some major makeovers? Or too lazy to shop for new furniture and decor? Waterproof canvas art is the answer to all your design dilemmas. You can hang a single piece or two on your outdoor wall space, and everything will immediately look brighter! Since these masterpieces are waterproof, you also won't worry about spending too much time maintaining them. Just hang it and place some of your favorite flowers below or add some lights above to make it stand out during the evening and we're sure your outdoor wall will give your visitors a lasting positive impression.
With so many artworks to choose from in such a wide variety of genres, you can find the perfect pieces that will best match your home's theme as well as your personality. Different artists may do the artwork, but the way you'll use it and enhance it is a personal touch only you can come up with.
Hang some customized aluminum signages for some 3-D effect
Aluminum signage is one of the most talked-about home decors right now. If you like to have an outdoor wall that will surely stand out and create some movement in the area where guests see first, hanging customized signage is the perfect takeaway. Words like "home sweet home" or "welcome" can be made for a more cozy vibe, or if you'd like to make it more intimate and personal, you can go for the family name or initials.
It's simple, out of the ordinary, plus it's also not high maintenance. Aluminum is one of the very rare metals that won't easily rust, so you don't have to worry about it looking old and rusty. You can put lights behind it for a more pleasing appearance at night or hang one or two plants around it to add colors. FastMetals sells aluminum metal stock for your project needs if you'd like to make your own!
Hanging vertical gardens never run out of style.
What makes a house look lively than some sparks of greenery? Vertical gardens are perfect for homes that don't have enough yard space. Who said you couldn't have some nature in such a small area? With these hanging gardens, you can add as much greenery as you'd like and make your outdoor wall livelier! There's no need to put much into it as the hanging garden will speak for itself. Be one with nature while creating an aesthetically pleasing area around your home.
Creating a welcoming and bright outdoor wall is as important as making sure the indoors are well-decorated. Your outdoor wall's vibe will create an impact on the overall impression of your house. So, don't be scared to think outside your comfort zone and have fun with it!