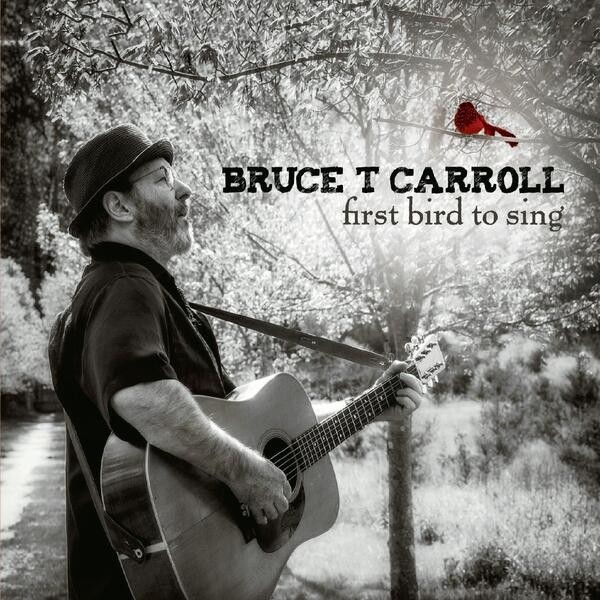 I'm a sucker for good singer/songwriters who play a mean acoustic guitar and Bruce T. Carroll fits that bill to a T! This new album by Bruce T. Carroll is called 'First Bird To Sing' and features eight amazing songs. With elements of Folk and Americana, Bruce puts together an original blend of music that is just as pleasant as listening to birds chirp away in the trees.
This album hits all kinds of emotional chords and is extremely dear to Bruce T. Carroll as 'First Bird To Sing' offers the audience a tremendous amount of real heart & soul. Purity, Truth and dedication is what the listener will receive when taking in all eight tracks on this new record by Bruce T. Carroll.
The album starts up with a terrific number titled "Nobody Knows" that has a heavy Folk influence. I picked up on hints of Dylan meets Springsteen when listening to Bruce sing on "Nobody Knows". With a sweet melody and lines like "Everybody cares but nobody knows" makes for one captivating & inquisitive listening experience. Next we have "What's The Rush" that is charming to say the least and offers up a lighthearted tone that is pleasing to hear. "What's The Rush" will have you feeling like taking a leisurely stroll through a park trail while taking in the peacefulness of nature. Strolling along, we head into the title track now with "First Bird To Sing" and what a fun, rockin' groove this is while set to highly personal material. "First Bird To Sing" is dedicated to loved ones and Bruce is definitely wearing his heart on his sleeve and guitar strings on this touching song. A beautiful thing comes to life here on "First Bird To Sing", so prepare to bear witness to its beauty. Bruce provides soft 'n' tender vocals on track four, "'Til It's Time To Go", where you sense a delicate touch that pierces right through by way of a powerful performance. Moving along, "Dragonfly In A Jar" gives off an earthy, organic texture that shines through like the bright sun. Musical crops are flourishing on "Dragonfly In A Jar" thanks to Bruce's sunny strings and enriching voice. On track six, "I Let Go", I am loving the guitar riffs that immediately pulled me in. Shake, Rattle and Carroll to "I Let Go" as Bruce gives us a little bluesy rock mode. Bruce Carroll provides a catchy chorus & melody on "Don't Take Love Lightly (Magagirl)" and then he ends the album with emotional chords & notes on "Grandfather Walks". Bruce is tugging at your heartstrings on "Grandfather Walks" where you are getting a strong sense of sincerity.
I am so impressed with Bruce T Carroll's efforts on this new record where the overall writing, musicianship and instrumentation came together nicely. Bruce Carroll is a true songsmith and one singer/songwriter who is a master of his craft. The art of storytelling by bringing lyrics to life is something Bruce Carroll does extremely well on 'First Bird To Sing'. I urge you to check out this new release from Bruce T. Carroll because 'First Bird To Sing' features songs that will move you and shake you to the core.
By Jimmy Rae (https://skopemag.com/?s=Jimmy+Rae)