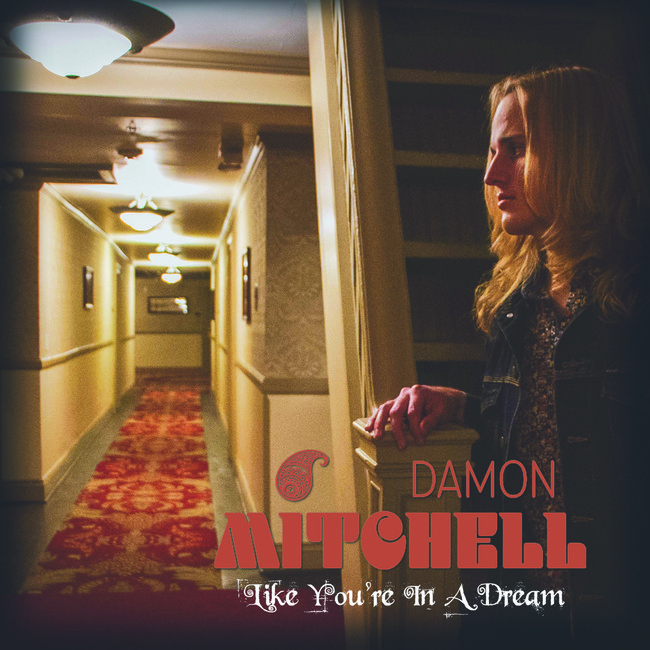 Applying images of ghosts and dreams, Damon Mitchell fills his Like You're In a Dream album with plenty of pleasing folk-rock vibes. Songs like "Dance With Me" are colored by winningly jangly electric guitar, which recalls some of the lighter moments from the Eagles. The results are both nostalgic and relevant.
Mitchell's music is described as Beatles meets Death Cab For Cutie, but his style is far more Laurel Canyon than British Invasion or Pacific Northwest. One titled "Have I Said Enough," for example, brings the Byrds (and later) Tom Petty's Heartbreakers to mind with its beautifully melodic guitar jingle-jangle.
While acoustic guitar (and folky electric guitar) is Mitchell's instrument of choice, he's accompanied on acoustic piano for "From California." This one sounds like one of those '70s Jackson Browne singer/songwriter songs. It even features a jazzy saxophone solo, which gives it even more of a '70s feel. The album closes with "To Have Lost," which is also a piano-driven track. It's not romantic but is instead more philosophical. With its words, Mitchell reminds us how it's okay to a have lost in life. We all do. However, he's not at all about to give up on his dreams, just because of these loses, and neither should we.
If Mitchell were compared to one specific Eagle, it would most certainly be Timothy B. Schmit. Vocally, Mitchell's voice is in the upper register – although not reaching up as high as Schmit can – and resembles Schmit's singing approach often. Instead of the smooth '70s pop Schmit is most famous for, though, Mitchell many times surrounds himself with something closer to folk-rock sounds.
Lyrically, Mitchell's songs mostly concern themselves with love and romance. Opener, "Like You're In A Dream," aptly describes that feeling of falling in love, where it's so good, you almost need to pinch yourself to convince yourself it's really real. "Dance With Me," is far less serious, in that it's simply about really wanting to dance with a beautiful girl. Dancing is, after all, one of the oldest mating rituals known to humankind. Anyone that ever watched American Bandstand or Soul Train, knows well that – although the dance styles change over the years – dancing is something that always has, and always will be with us. Mitchell doesn't want a romance that sends him into a dream world (yet0. No, he just wants to dance.
However, one titled "Blurry" sure fits well along with "Like You're In a Dream." Love can make us lose our vision, where we can't seem to see straight. Over a power-pop groove, Mitchell sings its words with a sweetly melodic vocal tone.
https://www.instagram.com/thedamonmitchell
Although a few of these songs sport strong electric guitar solos, the overall sound is closer to pop and folk, than it is to rock & roll. Whatever he sings about on this album, Damon Mitchell expresses his feelings with a gentle spirit. One wonders if he's just as soft spoken when he talks, as he is when he sings. Nevertheless, Mitchell has gifted us with a contemplative batch of songs that are consistently heartfelt and honest. It's a little like a dream, and there's nothing more honest than a dream.
-Dan MacIntosh