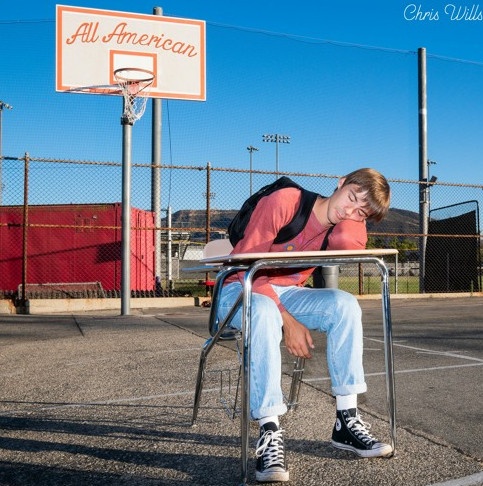 Mixing the kerosine fueled riffs of a punk guitar and the power pop vocals of a sun kissed rock band, Chris Wilis quenches those last weeks of summer craves for hot hooks and anthemic rises in the new hit "All American". Feverishly fun and a quick rapport, "All-American" enthusiastically tells the tale of a 'what if' and 'what might be' relationship. Be it adoration from afar or stuck in the friend zone, this epic sonic journey of unrequited love will get the listener singing along. 
SOUNDCLOUD:  https://soundcloud.com/chris-wills-369100031/all-american/s-lcYPPjNo8yP
Wills, who is originally from New Jersey and is now based in Los Angeles, has a younger-sounding voice. He has just the right amount of snarl in this delivery, that gives him that 'bad boy' sheen. He has the boy next-door dreamy tones, too, which makes him even more dangerous as a singer. He's a true front man. Wills is in the ballpark of other singers like New Found Glory's Jordan Pundik, Dashboard Confessional's Chris Carrabba, All-American Rejects' Tyson Ritter and Walk The Moon's Nicholas Petricca. Wills, who also plays lead guitar and served as assistant engineer on the track, leads a pack that includes Louie Diller (drums, keys, producer, engineer), Sam Stewart (lead guitar), Celeste Tauchar (backing vocals) and Fiona Grey (backing vocals). 
It's okay if you don't like me, Wills sings, later adding I know, I know things will get better. I found these lines to be both endearing and authentic. Assuming younger fans gravitate towards this song (not that older listeners shouldn't!) my mind wandered to the pressures facing high schoolers to fit in, be liked and to have a persona on social media. They have brands now – freshmen in high school are considered influencers! I think this song has optimism, but a bit of the insecurities and the confusion of hormones and wanting something so badly rear their heads the lyrical surface. I think Wills knows that for his fans and he's revealing a diary entry. He's building that rapport early on, and that type of songwriting will favor Wills in the long run. It's a long game, after all, and Wills is on board and setting the stage for something bigger with each release. You can just feel it at the first note that "All American" is just the beginning for Wills.
The backing vocals add a unique layering to the track, and I really liked how it gave it more depth. I was impressed by the quickness of the guitar playing, and the spunk of the percussion. I closed my eyes and could easily imagine this song being blasted over the loudspeakers at a pool party or tailgating event. Wills brings that live atmosphere energy into the studio with him. I'm not clear that they played their instruments in the same room, or if they laid their parts separately – and it doesn't matter – but this is a true band sound and a great rock hit to kick us into the fall season. "All American" just clicks and fits. 
Gwen Waggoner