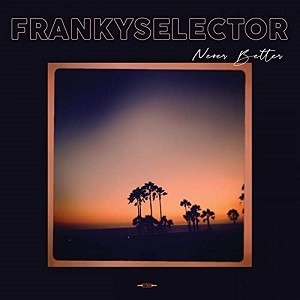 FrankySelector's "Ice Breaker" hails from his latest studio release Never Better and represents a peak moment in Selector's career trajectory. He's a multi-instrumental who has played music since an early age and growing up in an intensely artistic household, its focus falling on music, naturally accelerated his development. His tenure as a founding member of Montreal's Skyjuice introduced him to the upper echelons of modern music sharing stages with The Groove Collective and The Band, among others, and writing music for television and film functioned as a sort of finishing school for FrankySelector that, I believe, prepared him for his solo work of the past four years.
He's a few releases into his run under the FrankySelector moniker and shows no signs of slowing down. It's a curious thing though. "Ice Breaker" doesn't come off as the work of a longtime musician and songwriter in significant ways. Every facet of the song's presentation, including its video, has the beaming exuberance you associate with a new songwriter/musician bursting out of their skin to have their voices heard. "Ice Breaker", likewise, doesn't sound like the work of a newcomer. There isn't a single beam of daylight finding its way through this arrangement, everything is calibrated for maximum effect, and there's no hesitation. In the end, "Ice Breaker" is the sound of a musical artist working at the peak of his respective powers.
This could last for a while. When an artist is this engaged with their material, decline remains far away. You can hear it in the naturalness of the vocals and how nothing sound planned or plotted out. It flows like it is an expected outgrowth of the music. It's present, as well, in the physicality of many instrumental contributions, especially those from the percussion and bass. The latter has real muscle and pops from the mix like a second percussionist.
The video, mentioned earlier, matches the South Florida feel of the track. It is animated instead of live action, but that direction does nothing to dilute its ultimate impact on viewers. FrankySelector doesn't enjoy a five star profile in the music world so money isn't growing on trees, yet the video is as polished and fully realized as any major label release. It incorporates many of the elements customary to all videos but, nonetheless, has its own identity rather than seeming like a pastiche.
From his time in Montreal based band Skyjuice, his years scoring television fare and expanding his knowledge about production, even going back to his deeply musical childhood, all signs point to where he now stands. His work as FrankySelector can stand toe to toe with the best in modern R&B, soul, and dance without ever suffering the comparison and it isn't unfair to expect, based on the gifts shown here, that he will scale even higher peaks. "Ice Breaker" will garner a lot of well-deserved attention and is a song certain to connect with many listeners. It may be the moment that propels him to a higher level than ever before. 
Kim Muncie