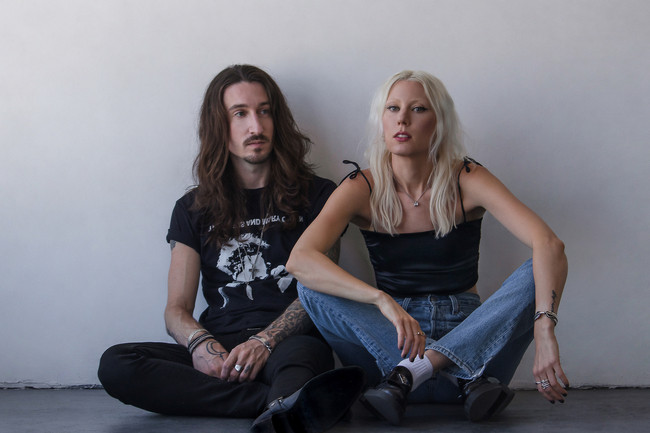 – First off, tell us a bit about yourselves. Who and what are the band we know as Songs for Sabotage?
We are Lina Sophie and Richey Rose… half Swedish and half American. We met in NYC in 2017 and also formed SFS there (in 2019) before relocating to LA in 2020. Musically we're inspired a lot by the past (80s post-punk/new wave, 90s alt & Brit pop, mainly) but also embrace the present/future in our production techniques. We like to think of SFS as 'modern nostalgia.'
– What's the story / meaning behind your band name?
We took it from an art book of the same name, though we had no clue what it was at the time. The two of us were looking through art books at The Strand (NYC bookstore) and came across one called 'Songs for Sabotage.' The cover had an image of billowing smoke, presumably from some sort of crash. We'd begun writing songs together then but hadn't officially formed a band. We took a photo of the cover, since it was cool, and then later that evening changed the name of our demos folder to 'Songs for Sabotage.' So the name comes entirely from that moment.
– Let's hear about the new single—what's some of the inspiration behind it, the backstory, and meaning behind the title, "Phantom"?
We wrote (what would become) Phantom last summer and it kicked around as just an instrumental for quite some time. The working title was actually 'Tuxxedo Terrace' named after a street near where we live. Richey actually released the first version on his 2020 instrumental album called 'LAX.' People seemed to really dig the vibe of the instrumental, so we reworked it earlier this year into an SFS song. The main changes were obviously adding lyrics as well as changing the key and making the tempo faster.
Lyrically it's meant to be empowering; written in the first person and focused on escaping a doomed relationship (not necessarily romantic). We also tapped into our nerdy side a bit by using words from the Star Wars universe, but repurposed them in a way that isn't too obvious. However, in the middle 8 break section of the song there's a sample of the sound the Death Star makes right before it fires its giant planet-destroying laser beam. That decision was a bit more on the nose.
We called the song 'Phantom' because it seemed like the strongest collective representation of the music and lyrics.
– I see that you've moved around a fair amount in a short amount of time— from Brooklyn, to Kentucky, to where you currently reside in LA in the span of about 2 years. How has that been impactful for you as artists and have there been challenges with the constant change of scenery?
Yeah, that certainly wasn't the plan until COVID happened. We'd both happily been in NYC for a decade before all the moving took place. We briefly relocated to Lexington, Kentucky for 2 months (March – May 2020) simply to get out of NYC, which was the epicenter of COVID infections at the time.
Richey is from Lexington originally and to be honest, we crashed at his mom's place while we got our bearings straight. We made the decision to do all of this less than 48 hours after NYC announced its approaching lockdown… it was seriously a momentary response to everything that was going on at the time. In May 2020 we then went back to NYC and moved out of both of our apartments and started the 3,000 mile drive out west.
We chose LA because a) we were craving a change b) our day jobs became remote c) the best goth/post-punk scene in the country is in Southern & Central California. There have of course been challenges along the way, but that's to be expected. We're kind of down to go wherever the road winds us at this point as long as we can keep freely creating and performing.
– What is the dynamic and chemistry like between the two of you as far as songwriting, production, and managing the affairs of a budding musical act?
We create everything 'in house' meaning we write and produce all of our own music and content. We are both songwriters by nature, and collaborate on music and lyrics together as well as independently from each other. When it comes to our recorded material, we've engineered, mixed, and mastered all of our releases thus far. Richey acts as more of the musical director in terms of putting together our live show. Lina is a creative director by day, and has designed all of our album artwork, merchandise, as well as directed and edited every video we've made thus far aside from our first single, 'Fire.'
SFS was originally just us recording song ideas together, so the fact that it's blossomed into an actual 'band' – one with a sonic and visual identity – is really special to us. It has been a very natural and organic process, and our chemistry has only grown thus far. Our dynamic feels healthily balanced.
– The music industry has been described as one of the toughest industries in the world, but it's also one of the most fulfilling when you're able to share your music and your message with an audience. What are some of the things that drive you and keep you motivated in the pursuit of music?
Yes, all of that is very, very true. We always say that we have an 'inherent need to create' and that, in itself, motivates us quite a bit. But we also have an inherent need to be social… to connect with other humans who are moved by this type of music.
Ultimately it's the prospect of connecting with people, places, and communities that drives us. If one person's perspective is reinforced or changed for the better, then our job has been done. Those connections/experiences are the most driving and fulfilling thing about making music for us.
– Any last words / anything you'd like to share with the readers?
Let's all remember to be kind, patient, and supportive with each other!