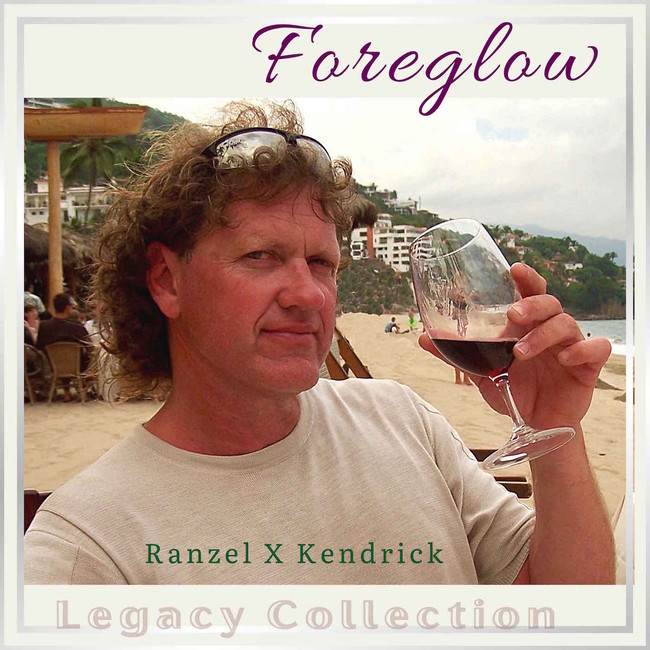 Ranzel X Kendrick sings the songs on his Foreglow album with a jazzy vocal tone. Yes, he's based in San Antonio, TX, but both his guitar playing and singing style sound far more costal (something you'd be more likely to find in either New York or Los Angeles) than Southwestern.
Lyrically, Kendrick throws the listener a few curves, as well. The familiar saying always goes, "Cross my heart and hope to die." However, when Kendrick stings a song with this title, he tells us: "Cross my heart/And hope to love again." He has a way of turning a phrase in such a way that it captures your attention. While this former one includes a percussion backing, the next track ("River of Love"), however, features only Kendrick and his acoustic guitar. This latter one was presumably recorded in front of a live audience because one hears a smattering of applause at track's end.
With "Virtuous Woman," Kendrick ups the jazz content ante even more, as this one includes flute soloing over Kendrick's vocals and guitar. The song, about the search for a virtuous woman, describes an extremely difficult task, indeed. If you find a woman that is virtuous in the Biblical sense, well, that would be a rare find.
Foreglow Album Streaming:
https://open.spotify.com/album/1iX4VJLV7FYhsIQGEFk0ap
Kendrick sounds truly sad on "Lonely Tonight," a song with a title that says it all. Loneliness is a universal problem. Our constant state of being locked down can only make that situation worse. Kendrick sings this one over guitar and drums, along with a backing female vocal. Toward track's end, there's a really nice bass part, too.
This five-song EP closes with "Slow Dancing in the Rain." It's a quiet, nighttime kind of tune, which also features acoustic piano. You get the feeling this is no kind of joyful dance, though. This supposition is supported by the track's sad vocal, slow tempo and overall melancholy mood.
The album's cover is a little misleading. It pictures Kendrick drinking a glass of wine while sitting on the beach. He's in a relaxing place, but the expression on his face is not at all relaxed. He's not really smiling. Similarly, the music contained on Foreglow is jazz-ish, which is usually a more comforting musical style. Kendrick doesn't sound contented when singing these songs. He may be a smooth customer, but he doesn't come off like an easygoing character through these songs.
Of course, Kendrick can't exactly change his musical style to better express his emotional state. He does what he does best, which is create jazzy pop. He just doesn't seem to be in a warm, quiet storm state of mind these days. The one exception, perhaps, is "River of Love," which includes a measure of contentedness running through it.
https://www.facebook.com/ranzelxkendrick/
No matter the state of Kendrick's heart, though, he plays and sings enjoyably throughout this brief but effective EP. Music should always reflect where an artist is at, whether that be a good place or a bad place. Honesty is more important than just about anything else. Thankfully, that river of love he sings about, flows through both the darkness and the light. Let's hope it brings him to a much brighter place soon.
-Dan MacIntosh