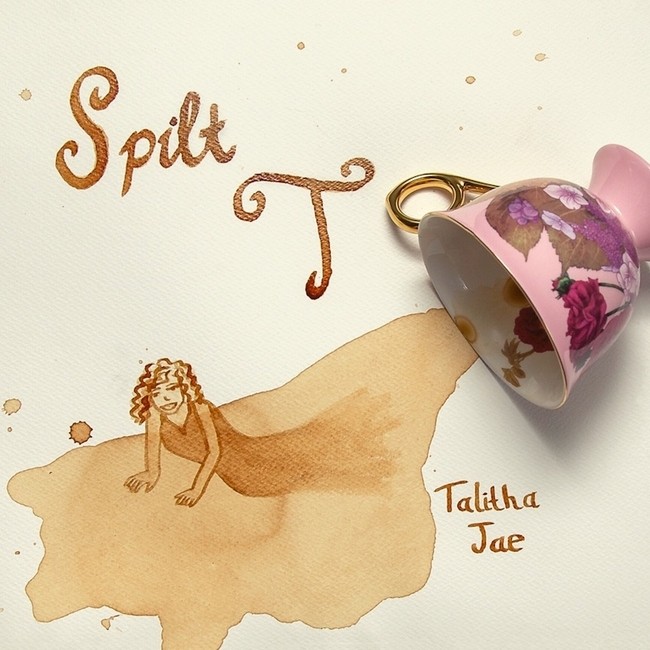 Talitha Jae, hailing from Queensland, Australia, has breezed onto the music scene with a delightful EP, "Spilt T." Her warm jazzy/bluesy/indie folk sound wraps your brain in a fuzzy blanket and kisses it's forehead. She shows off her songwriting chops by taking the listener on a journey through the ups and downs of the current social/dating scene. She is able to express her sorrows and tenderness eloquently, keeping you engaged from beginning to end. Her music fits in flawlessly among the ranks with all the prolific female singer/songwriters than came before her.
INSTAGRAM: https://www.instagram.com/imjustmeimjusttee/
"Butterflies & Anxiety," the single off of "Spilt T," is an endearing, enticing song that explores the feelings at the start of a relationship. It seems to flow from Talitha Jae effortlessly, her voice like honey. It has a timeless quality; it's just a good song even if indie folksy blues aren't your cup of tea. You can feel the emotion she puts into every lyric and the care she puts into crafting the song. It's a highly relatable track, describing the way you flip back and forth between falling hard and pulling away when you start to like someone romantically. It really captures the giddiness of those moments where you feel like you're free falling into something special.
Another track that deserves a highlight is the final track on the EP, "I'm Done." Standing opposite from "Butterflies & Anxiety," this song is about the death of a relationship. Talitha Jae declares she's totally done with a guy who keeps leaving her in the lurch with this fun, saucy break-up tune. It definitely sounds like something someone would sing along to in their car loudly after telling an ex-lover to get bent. The song also ends suddenly, which makes it feel like Talitha Jae is done wasting her breath on this man, a feeling I'm sure many, many people can connect with. It gives the song a silly, clever edge and makes it even more memorable.
Talitha Jae has gained some recognition over the past few years in the Australian indie/folk scene. She placed third in the folk/acoustic category of the 2019 Australian Songwriters Association Awards and placed second at the Tablelands Folk Festival Songwriting Competition. She was also a top ten finalist (2018) and a semi-finalist (2020) in the Listen Up Music's Songwriting Awards. She was given three slots at the Tablelands Folk Festival in 2020, including the highly coveted "Pub Ballroom" venue.
APPLE MUSIC: https://music.apple.com/us/album/1567867728?ign-itscg=30440&ign-itsct=catchall_p2
Talitha Jae and "Spilt T" are a welcomed breath of fresh air that cuts through the doom and gloom that surrounds us daily lately. Her songs and her sound are comforting and warm, full of relatable and recognizable feelings. They make you feel like you're swaying in a field at a festival or driving down a scenic route on a road trip. Something that makes you feel free and connected to the music. Talitha Jae has the voice and the songwriting skills to forge a decent career for herself, and it's exciting to ponder where she'll go from here.
Gwen Waggoner