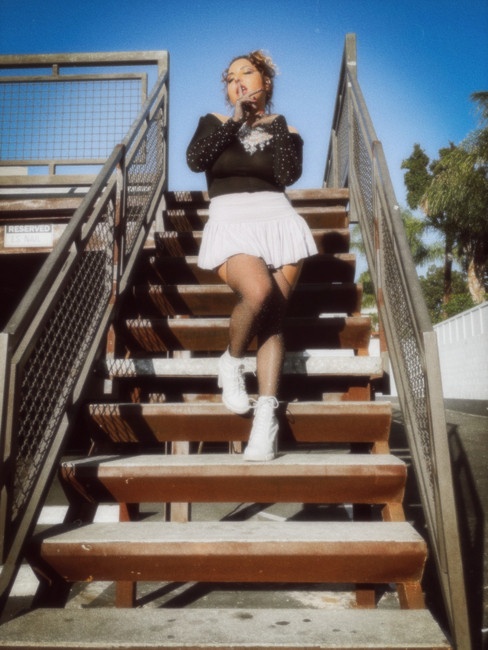 We want to get to know more about you Emily Daccarett! 
Thank you so much for having me! I feel so lucky that I have the opportunity to express myself through music and hopefully bring a little hope and fantasy to my listeners!
What was your first performance? 
My first performance was when I was 14 years old and sang at the state fair. At the time I was singing  more country songs, but my first official performance with my own original songs was at my EP release  party in the Hollywood Hills. I wanted to capture the nostalgic 70s music vibe that thrived in LA, back  when Mama Cass would through her iconic parties.
Did anyone get you into music? 
It was something that happened organically. Because of my parents' musical tastes, I grew up listening  to mainly oldies, like The Carpenters, Simon and Garfunkel, ABBA, Air Supply, Dean Martin. My dad loves  rock so Pink Floyd, Queen, Led Zeppelin, Fleetwood Mac, and David Bowie were always playing. I  wanted to recreate the emotions I experienced through their music with my own and that's how I got  into music.
Were there ever days where you wanted to make something else your career? 
Yes constantly! It's not easy and the uncertainty sometimes gets to me, but its who I am and I wouldn't be happy doing anything else.
What is a good amount of downtime for you to reboot? 
Sometimes I just need a weekend to recharge, other times I need a couple of weeks to disconnect from  everything and by the end I find my inspiration once again.
Favorite song you could never get sick of! 
There are too many, so I will limit them to three songs.
Cinnamon Girl – Lana Del Rey
When the World Fall Down – David Bowie
Hungry Eyes – Eric Carmen
What song of yours could you never tire of listening to? 
I could never tire of hearing Don't Look Back from my upcoming album Yours Always. There are  references to my favorite books and more importantly to my grandfather who passed away last year. It  puts a smile on my face whenever I hear it!
Best word to describe new music? 
In relation to my music: Cinematic
Streaming links! 
https://www.instagram.com/emilydaccarett/
https://www.facebook.com/emilydaccarettmusic
https://twitter.com/EmilyDaccarett
https://open.spotify.com/artist/0vGY0fEPTO0FT4QQvaGCJI
https://www.emilydaccarettmusic.com/