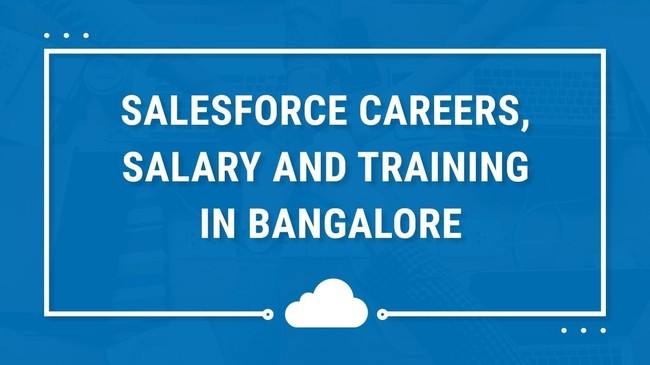 Do you find it challenging to make ends meet? Do you need a better paying job but don't know where to look? Well, you don't need to look anywhere else now that you are here!
You are at the right place to make a career change, at CRS Info Solutions. 
Why?
Well, it's because we are the best institute for project-based Salesforce online training in Bangalore!
About Salesforce training course
Our Salesforce training in Bangalore not only makes you an expert in everything related to administration and declarative development options, but we also help with job assistance on completing the job. We even help you with your Salesforce certification preparation (both SFDC Admin 201 and App Builder).
Why you should select CRS Info Solutions

If you wonder why you should turn to us for your Salesforce training, and not some other institute, the following points should tell you why!

We are a pioneer institute to offer Salesforce training

We have a team of expert and experienced instructors to teach and guide you

Our instructors are working professionals with a minimum of 10+ years of experience

We conduct our 10 weeks course interactively live in virtual classrooms
We provide 100% hands-on learning through real-life case studies
We offer scenario-based interview questions and answers to help you face interviews
We give everyday tasks to ensure you understand everything taught
We give you real-world projects that are relevant to modules learned
You can use the projects as your portfolio to show prospective employers
We offer the best customer support
We help with resume preparation
We offer live demo sessions to understand the course better before choosing
We have 24/7 teaching assistance
Who are your instructors? Are they professionally qualified? 
Now that you know why you should join us for your Salesforce certification training, here's a little bit about our team of instructors. 
Our instructors:
Are real-time professionals working as a Salesforce consultant

Have more than 10 years experience in the industry and are 4x certified in Salesforce CRM

Have successfully trained more than 4,100 students on Salesforce

Offer both corporate and online training as needed

Help students solve problems if need be
Who can attend?
Some of you may worry if you can join Salesforce training, mainly because you don't have any technical or programming background. 
Well, you needn't worry at all! 
It's because ANYONE can pursue Salesforce training. 
All you need to have is a passion for learning about CRM, and an internet connection and computer to start immediately. We teach everything, starting from the basics, making it easy for people from non-technical backgrounds to understand better. 
Our Salesforce training is also useful to people who have lost a few years because of personal reasons, and want to give a fresh start to their career. 
How much does Salesforce training in Bangalore cost?
We are proud to say that our Salesforce training costs are affordably priced. We even have a partial payment option if required. 
Will you help me with the Salesforce certification preparation in Bangalore?
Yes, we will help by teaching you the Salesforce certification questions and answers to help you pass the Admin 201, Development 401, and lighting exams, etc. 
Will your Salesforce training help with my placement and interview questions in Bangalore?
Yes. We help through real-time project oriented Salesforce CRM training. It involves 100% hands-on experience from the first day that provides the required practical knowledge to face any interview confidently. 
Join our free demo NOW to learn SFDC online training in Bangalore that helps you face tough interviews. 
What are your course timings?
We offer both morning and evening batches for you to choose from at your convenience. We, however, disclose the course timing during the online demo sessions. 
So we suggest joining our free demo classes to get to know more about our modules. You can then select the right module to join based on your experience and other factors. 
The Salesforce modules we have on offer are Administration, Development, Lighting Essentials, Sandbox, and App Builder. 
Fill out our contact form to attend a free live demo.
What about missed classes?
Don't worry if you miss any class.
We will send you a class video recording. This is to ensure you don't lose any of our Salesforce online training classes. 
Does your course include Salesforce Administration and Salesforce Development training?
Yes, we offer practical based Salesforce Admin training, developer training, and lighting training through the course. 
What topics do you include in your Salesforce online training in Bangalore?
Our Salesforce training covers most of the essential modules of Salesforce Administration, Development, lighting, chatter, and sandbox essentials. 
Examples of the topics are:
What will I be taught through Salesforce training?
You will learn all about and enough about Salesforce concepts from the basics to the advanced to create your applications in the SFDC platform. You will be able to manage Salesforce consultant duties in any Bangalore company with our practical training. 
What are your Salesforce online certification course objectives?
You can advance in your career as a Salesforce Administrator or Salesforce Platform App builder upon completing our Salesforce training course in Bangalore and when you learn these Salesforce interview questions thoroughly. . 
You will be taught how to gather and evaluate customer base information and to configure Salesforce. You also learn the development of next-generation cloud apps using Force.com fundamentals. 
We at CRS Info Solutions offer both theoretical and practical hands-on learning to ensure you succeed in both Salesforce Certification exams. 
What are the skills I'll learn through your Salesforce course?
You will learn enough skills through our Salesforce course to:
Configure the user interface and manage sales and service cloud

Gain insight for each functional user group

Implement and customize automation, debugging, security and data validation apps

Develop new applications using Force.com declarative interface and fundamentals

Deploy and manage application changes to the Force.com platform
What job opportunities do Salesforce trained professionals have?
Salesforce is one of the leading technologies used in e-commerce businesses, the digital marketing field, and a popular automation tool in the sales team. This is why there is a rising need for Salesforce proficient professionals in the market today.
You can apply for the following jobs on completing our Salesforce Admin and Developer Certification:
Salesforce developer

SFDC developer

Salesforce administrator

Wave analytics

Salesforce integration developer

Salesforce lightning developer
Are there any prerequisites for Salesforce training?
No, there are no prerequisites for the Salesforce training course. However, it helps if you have some prior administrator or developer working experience. 
Who gives the certificate?
Salesforce.com awards the certificate on completing it. 
What do I have to do to pass the Salesforce exam?
The 90-minute Salesforce Administrator exam contains 60 single or multiple-choice questions. You need to correctly answer 39 questions, or get 65% to pass the exam. 
CRM Info Solutions offer professional Salesforce certification online training to our students from across the world. We help you virtually reach your learning goals with a 100% practical approach and industry-based scenarios. 
We are a leading global institute for Salesforce CRM online training and certification program. Enroll in our Salesforce CRM online course to become a certified CRM consultant. 
Our experienced and knowledgeable instructors will teach you Certification Programs and Interview questions to open up new career opportunities for you. 
We offer a fully hands-on Salesforce course with 100% practical based activities. Contact us for more details about your next batch schedule and timings.