Whenever a person starts suffering from hearing loss problems, they start facing troubles in many of their day-to-day activities, like using their phones, listening to music, watching their favorite shows on TV, etc. Hearing loss problems can occur for different reasons, and they can occur to anyone at any point in their life. There are various types of hearing loss problems, and most of them are permanent types. And there is no better solution for permanent hearing loss than hearing aids.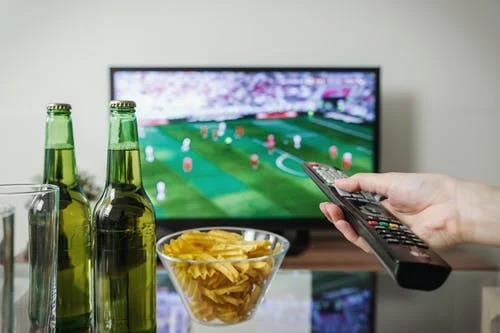 Hearing aids are the most effective solution for hearing loss problems, as they won't only help you listen better, they'll also keep your hearing health in a good shape. Hearing technology has come a long way in recent years. Hearing aids that are rechargeable have become smaller, lighter and unnoticeable.
Apart from amplifying the surrounding sounds for you so that you can listen to them, hearing aids also help to make the life of the user really convenient. It helps with various activities, and watching TVs conveniently is certainly one of them.
When someone suffers from hearing loss, watching television becomes a problem for them, as it becomes really difficult to hear with the normal volume. And you can't simply turn up the volume to hear properly, as it can become really uncomfortable and disturbing for others who will watch the television with you. It will also disturb others who are at home with you. There is another problem, which is the sound clarity of the TV can deteriorate if the volume is turned up too much.
Hearing Aids for TV
But you don't have to worry about watching television with hearing loss anymore, as there are some great hearing aids that work really well for watching TV. Wearing hearing aids will significantly improve your ability to understand the sound of television by amplifying the sound of the TV and reducing other background noises. You will be able to turn the volume down of the TV, and still hear the sound easily.
There are hearing aids that come with specific features and capabilities that will help you more with watching television conveniently. You will be able to adjust the hearing aids based on your specific needs for sound, and the clarity of sound will increase due to the amplification of the TV sound. Also, it is important to be able to connect the hearing aid with the TV via Bluetooth so that the sound will come directly into your hearing aids, and you will be able to listen to the amplified sound easily.
There are many hearing aids in the market with Bluetooth compatibility that will help you watch TV, but not all of them are up to the mark. So, we have put down a list of 5 hearing aids that will make it convenient for you to watch TV. Here are the best hearing aids for TV-
Signia Stiletto X
The Signia Stiletto X is one of the best hearing aids out there that will help you watch your favorite TV shows more conveniently. This hearing aid provides Bluetooth compatibility, with which you can stream TV shows with ease. Also, you'll be able to stream calls and music. This hearing aid features acoustic motions sensors, which help to provide a great 360-degree crystal clear sound experience. Moreover, it also has special custom speech-enhancing technology that will help you listen to conversations way better, and you'll be able to communicate with your family and peers in a better way. This award-winning hearing aid is really comfortable to wear.
Pros
Custom Speech-Enhancing Technology

Bluetooth Compatibility

Acoustic Motion Sensors

Crystal Clear Sound
Comfortable to Wear
Cons
Phonak Audeo Marvel
The Bluetooth technology of Phonak Audeo Marvel is one of the best, and it will allow you to connect with your TV with Bluetooth compatibility easily. Then you'll be able to enjoy your favorite shows with convenience, and without feeling the need to turn up the volume. You'll be able to enjoy watching TV with your family members and close ones. This hearing aid provides great speech clarity and crystal clear sound with the AutoSense OS 3.0. It also provides easy recharging options with a portable charging case. You'll be able to adjust the sound anytime with the smartphone app of Phonak.
Pros
Bluetooth Compatibility

Easy Adjusting Options with App

Crystal Clear Sound

Amazing Speech Clarity

Portable Charging Case
Cons
The Receiver Can Feel Uncomfortable at Times
Starkey Livio AI
The Starkey Livio AI is the first-ever hearing aid that uses artificial intelligence. It will track your physical and mental health. This hearing aid is highly compatible with wireless devices, so you'll be able to have easy and direct access to your remote microphone, smartphone, or TV streamer. So, you'll be able to watch your favorite TV shows with your near and close ones without any trouble. The Thrive app of this hearing aid provides amazing features such as translating speeches from other languages and tracking your physical activities.
Pros
Superior Sound Quality

Wireless Compatibility

Artificial Intelligence

Impressive Features

Great App Support
Cons
Might Feel A Bit Uncomfortable At First
Oticon OPN
The Oticon OPN is a great hearing aid for watching TV, as it provides great Bluetooth connectivity options and a dual wireless system. This hearing aid features the Velox chip and BrainHearing technology of Oticon, which makes the hearing aid provide a natural sound. A person will especially be able to listen to speech sounds from all around them and communicate with people seamlessly in a crowd. It has great noise reduction technology, and you can go for either a rechargeable battery or a disposable one.
Pros
Bluetooth Connectivity

Dual Wireless System

Velox Chip of Oticon

BrainHearing Technology

Fast Processing Speed

Natural Sound
Cons
Can Take Some Time Getting Used to It
Nano Sigma
With its great sound environment settings and adaptive technology, the Nano Sigma is one of the best hearing aids out there. And an impressive Bluetooth technology has made it great for watching TV too. This hearing aid also provides wireless app control so that you can adjust it to your preference easily. This hearing aid also features background noise reduction and feedback cancelation. It provides great sound quality with its digital sound processing technology.
Pros
Digital Sound Processing

Bluetooth Compatibility

Wireless App Control

Sound Environment Settings

Background Noise Reduction

Feedback Cancellation
Cons
Doesn't Have Rechargeable Battery
Final Words
It can be really difficult for you if you can't communicate with your near and dear ones properly due to your hearing loss, and at the same time, other things like watching television with them can get troubling too. But these above-mentioned hearing aids will be able to help you with these problems. They all feature Bluetooth technology, with which you'll be able to easily connect your hearing aids with a television that has Bluetooth compatibility. Then, you'll be able to listen to the sound of TV easily through your hearing aids without having to increase the volume. And you'll be able to enjoy your favorite shows with your loved ones.