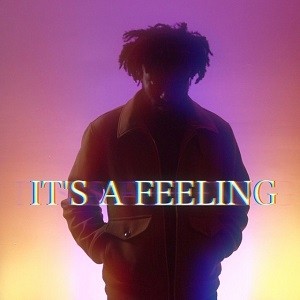 Soul is so much more than a genre, or even a sound. It's an identity that takes many working parts to completely develop and connect with, and in his new single "It's a Feeling," RockLee personifies it better than most any non-singing musician I've heard this year has. He isn't completely without a voice in "It's a Feeling;" his instruments and the vocalists Mel Pacifico and Uness are here to help out with the project, but beneath every word they'll utter and every beat they'll finesse into something tangible and charged to the audience, there's one mind powering everything we hear in this master mix.
Instrumentally speaking, this track has a rather old school vibe – but this is about the structure of the music more than the actual execution by the players. What separates "It's a Feeling" from the sea of forgettable throwbacks filling up the indie section of the record store this summer is the not-so-subtle emotionality of its narrative and the stunning colors its melody produces. This is high definition audio with an old-fashioned blueprint, which results in something I think generations young and aged the same will be able to dig in some fashion or another.
I love the way Mel Pacifico and Uness each come into their set of verses at different speeds, almost demanding a unique reaction from the listener without ever having to battle for the lion's share of our affections. There's no need to pile their words on top of each other with the hopes of sparking some sort of duet-style kindling in this single; it's better to let each party contribute their persona to the canvas at hand, as to give us as full-bodied and complete an illustration of their collective talents as is possible.
– https://open.spotify.com/track/0Nb06hsNJqSKcqtwIjJWKL
There's a versatility to this beat that screams remix possibilities at me whenever I listen to it, but I don't think RockLee should feel pressured to get right back into the studio with the bones of this single. There is certainly a component of the rhythm here that could be reworked into something more suited for the dancefloor than the decadence of basking in the song's ethereal melodicism alone, but even if he decided to leave this mix as the lone incarnation of "It's a Feeling," I think the point he was trying to make about the limitations of neo-soul in a mainstream setting these days.
A mind-blowing combination of talents that ultimately leaves me wondering how RockLee has been able to go without scoring much of the American spotlight in his career so far, "It's a Feeling" is a soul crossover single that doesn't give up once it gets started. The vocals are grand, the harmonies are crisp, and above all else, this is a song that speaks to the aesthetical virtues of a closely guarded cultural tradition we need to see more experimentation with in 2021. RockLee is all about keeping the spirit of soul alive, and his efforts here verify that emphatically.
Gwen Waggoner