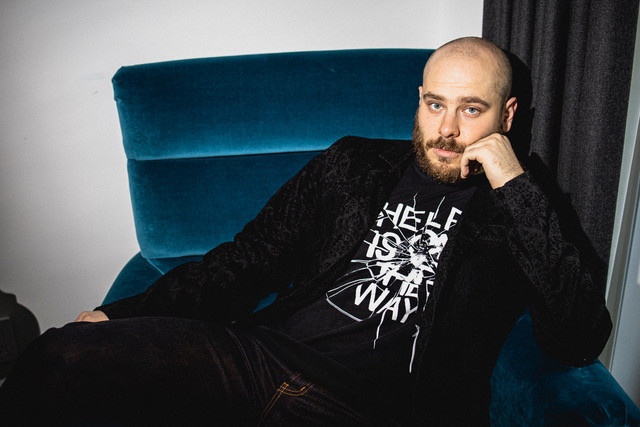 Many younger artists have a limited frame of musical reference. This isn't a criticism. It's an observation. Writing and recording music capable of reaching a wide audience doesn't require that an artist draw from a range of influences. Settling on a familiar formula and executing it with competence is often more than enough for a musician and/or performer to enjoy a degree, at least, of commercial success. Leo Sawikin goes several steps further, however.
INSTAGRAM: https://www.instagram.com/leosawikin/?hl=en
"Row Me Away", the title song from his debut solo album, is evocative if nothing else. Fortunately there's a lot here. Sawikin favors a very deliberate build for the song, almost classical in scope; these supercharged dynamics deepen the listening experience. The understated yet atmospheric opening complete with voice and piano gains added dramatic impact from Marc Swersky's production. There are light effects present in Sawikin's vocal that never threaten to overwhelm the tone and timbre of his voice.
Swersky makes important musical contributions as well. His bass playing is crucial to the song's success, especially during the song's second half when he unreels particularly eyepopping bass lines. Avishai Rozen's drums are muscular and keyed into the song's dramatic possibilities. There is guitar present during "Row Me Away", but Vin Landolfi's playing is orchestral rather than embracing traditional guitar theatrics.
The writing is lean and on target. Sawikin's song benefits a great deal from having one of the best opening lines in recent years, but there several payoff moments when the best lines stand out as pivotal moments in the track. Listeners will enjoy discovering them. The hard-hitting heights both Sawikin's voice and the musical arrangement reach during the middle and second part of this track are worth price of purchase alone, but "Row Me Away" is flush with riches. Sawikin relies on direct language and a fair amount of scene painting to convey his message. These are obviously song lyrics instead of poetry set to music and there's no crime in that, but you can hear the strong singer/songwriter influence in this track. Based on this track alone, his commitment to singing substantive material is unquestionable.
The song, at four minutes thirty-five seconds, is a good length. There's no self-indulgence dragging down the performance, but the running time allows Sawikin ample room to explore. It isn't for everyone, however. Some will think "Row Me Away" comes off a little too plotted out, a little bloodless, but they are bringing biases to hearing this release rather than keeping an open mind to its creativity. "Row Me Away" has a thoroughly modern sound, without a doubt, but it rises and falls with real heart.
– https://open.spotify.com/artist/4DPE76iPFUZzRhXQPquaWn
That quality fills this song. It is safe to assume, without having heard the entirety of his debut, that it's a hallmark of Sawikin's work. This characteristic is something that will serve him in good stead through the coming years and helps set him apart from lesser talents. Leo Sawikin's "Row Me Away" covers themes any listener will relate with and places them with a thrilling musical context appealing to many listeners.