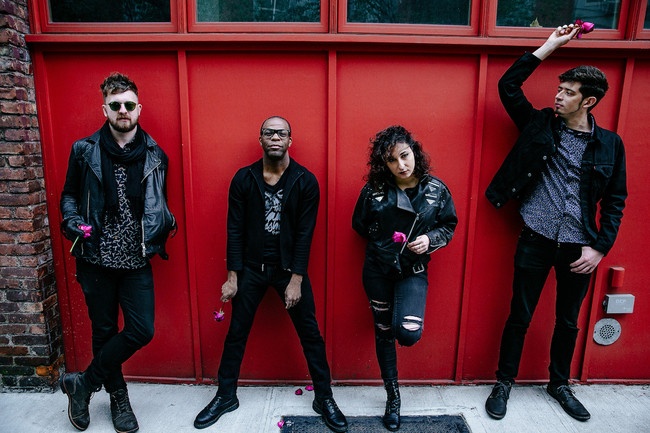 Fronted by singer, producer, songwriter and multi-instrumentalist Kelsey Warren, NYC band Blak Emoji have shared their latest single, "Swooning On You". Having built a following and received critical acclaim for their previous work over the last few years, the band's self-produced and independently released new track is another impressive entry into their growing discography. It follows "Mechanism", which was released earlier this year, and precedes the band's forthcoming album due for release in October.
Playing drums since the age of 5 and guitar and piano since the age of 12, Kelsey showcases his full production range on "Swooning On You", expertly and seamlessly blending together retro pop, R&B, electro and soul – i.e. all the sounds he was immersed in throughout his childhood growing up in South Jersey – with a fresh and modern twist. "I was working on this beat in Logic on and off for a few weeks", says Kelsey. "I had the drum pattern and bassline down but went back and forth experimenting with sounds and ambient textures for quite a while.
– https://open.spotify.com/track/27BcNEkeK7UeZdjIJlsVdH
"The lyrics were inspired by a recent conversation, and once the lyrical lightbulb turned on, the melody came out of nowhere. I completed the music, recorded the vocals in a day, put it all together and mixed it. The song describes a 'love at first connection' vibe. That feeling you have when you relate to a person instantly without explanation."
Having carved out their own lane with a unique sound and style, "Swooning On You" looks set to continue the band's impressive rise. And with more new music to be unveiled in the coming months in the lead-up to their anticipated new album, they are undoubtedly an act to watch out for over the next year.
"Swooning On You" is available to buy/stream now on all platforms: https://distrokid.com/hyperfollow/blakemoji/swooning-on-you