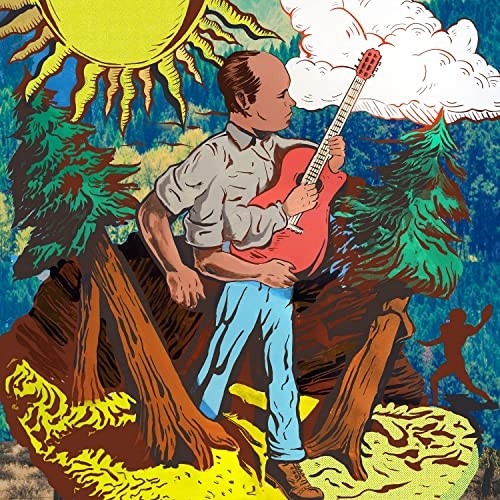 Encompassing listeners with a soft, mellow, and loving echo, budding Outsider artist and singer AndrewNeil is driven to win souls with his new album "Sunny Side", drawing a parallel to the work of Outsider artist Daniel Johnston.
Charlottesville, Virginia – May 25th, 2021 – Up-and-coming singer and songwriter Andrew Neil is becoming a stirring force in the world of Alternative and Outsider Folk.  Penning over 400 songs after surviving a major car accident in 2009, Andrew Neil is an independent outsider music icon. The emerging singer songwriter taught himself how to play the keyboard and guitar by writing songs and used music to channel his intimate emotions.
With release of his new album "Sunny Side", Andrew Neil puts on a show with his vintage nylon string Ovation Guitar underscored by keyboard overdubs. Imbuing a very natural and organic spirit, the budding singer is set to warm hearts and bring back a memorable and uplifting vibe to music. The new record can best be described as an amalgam of sounds that are refreshing, crisp and warm. Every track on the album is catchy and underlined by a positive message. Slated to release digitally on June 15th, 2021, "Sunny Side" will also be available on CD on June 30th, 2021, along with a limited press Vinyl version being accessible later in October.
Tracks such as "Gamblin Man" and "Heaven", evoke a soft and catchy vibe, which heralds towards the wistful and soulful essence of time, along with the titular track "Sunny Side" which is evocative of an optimistic vibe and outlook. Andrew Neil's new release will follow up on two fully instrumented studio albums, titled 'Merry Go Round' and 'Freak', which were produced by Andy Waldeck and released in 2018 and 2019 respectively.
"I believe the album will appeal to people who really dig the lo-fi, outsider vibe. I hope my music will be recognized as something genuine; something that people can relate to and let them know they are not alone in this jello world" says the artist regarding his upcoming release.
Check out Andrew Neil's new music and learn more through the links below and/or reach out via the contact information for interviews, collaborations, or promotional access. 
About
Andrew Neil is a growing poet, songwriter, recording artist, and painter. In 2009, Neil sustained a head injury in a car accident which forever changed his life and put him on his unique musical voyage. Struggling with Bipolar 1 Disorder and Schizoaffective Disorder, Andrew began writing about his struggles with mental illness in his soulful singles.