Elisha Marin has an upcoming album this month, and trust me when I tell you it's one to anticipate. The Minnesota based musician is setting to light the folk world on fire with his debut album 'Shining Out' with its release on the 18th of this month. On first listen, I couldn't quite believe it was a debut. Elisha Marin sings with a soul as old as time in his vocals and has crafted twelve songs that feel both reminiscent and refreshing in a tradition as old as time.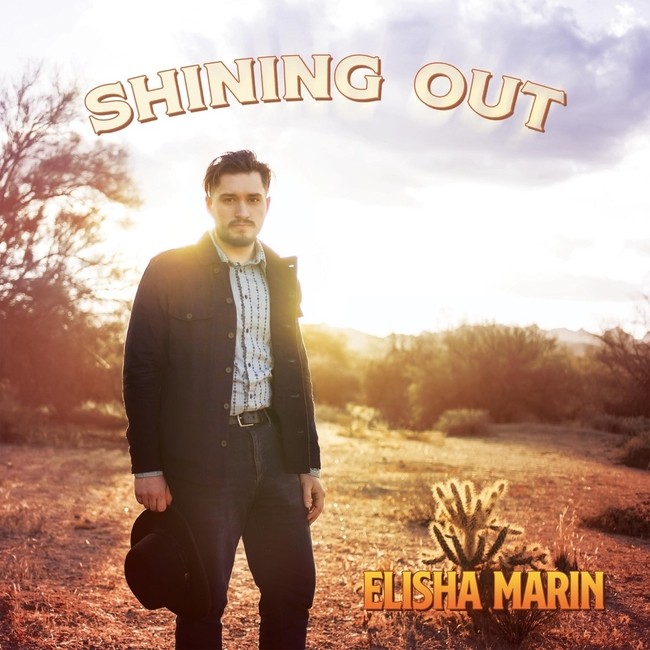 The album eases into its sonic journey with the title track 'Shining Out'. What struck me first was the captivating, somewhat comforting, tone of Elisha Marin's vocals. His first refrains pull you in, his softly dignified tone is all-encompassing and all at once feels nostalgic yet new. This single is a beautiful beginning to the outstanding album, with an easy-going energy carrying you through, all with Elisha Marin's vocals sailing over the soft soundscape. 'Stone Heart Of Mine' is another standout for me. The sculpted simplicity of this song is sensational; Elisha Marin clearly does not need a big production. The instinctive soul in his voice, married with a gentle guitar, makes more impact than most music saturating the scene. Throughout the album, Elisha effortlessly fuses intertwining elements of folk, blues, indie and rock realms. 'Respite Baby' embodies this fusion like no other. The dynamic drum line propelling this track forward is reminiscent of indie-rock, whilst pop inflexions peer through in the hook. Marrying these together with all the performance power of an artist in their prime, Elisha Marin's mesmerising melodic lines seem to transcend a specific sound, but feel completely him — and I, for one, can't get enough.
The album then flows into the beautiful ballad 'Caitlin'. 'Shining Out' is an album rich with contrast, fluidly easing from electrifying energy to a bitter-sweet ballad that'll stop you in your tracks. 'Caitlin' is this mesmerising moment. 'Love Is A Luxury' lulls you in with a melody you'll be singing along to before the song is over. This free-flowing track is again led by Elisha Marin's luscious vocals. Yet, he sculpts a soundscape swimming in gentle synths and sweeping guitar lines, bringing to remind a smooth Caledonian soul you'd crank up on a slow summers evening. 'Tenement Stacks' concludes this captivating album; the opening a cappella is breathtaking. It's no doubt Elisha Marin is leaving us with a track that will leave us hypnotised by his vibrant vocals, and he's done just that. 'Shining Out' is one of the most outstanding albums I've come across this year and I've no doubt the shining star that is Elisha Marin will be reaching new heights very soon.
Follow Elisha Marin on FACEBOOK | INSTAGRAM | YOUTUBE | WEBSITE
Watch 'Shining Out' Lyric Video on YOUTUBE NOW
Pre-save 'Shining Out' on SPOTIFY | ITUNES
By Sasha Lauryn