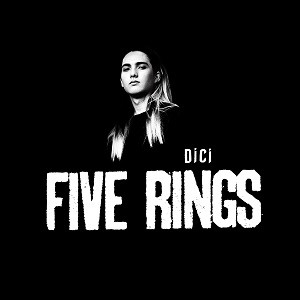 DICI's rise to prominence within the underground has been nothing short of meteoric, but if you listen to his new single "Five Rings," you should be able to pick on the same two things that I did regardless of what you think about big indie hype. First off, "Five Rings" doesn't show off a player who sounds like the attention he's getting from the media is going to his head; on the contrary, he sounds more focused in his melding of rhythm and rhyme here than he did in the whole of his critically acclaimed debut extended play, which was also released in 2021. Secondly, considering how much he's squeezing into the black and white parameters of this poppy hip-hop single, it's a surprise his talents weren't noticed sooner than they were.
FACEBOOK: https://www.facebook.com/dici305/
Everything in this single was created as to give something over to the sway of the percussion, including the way DICI stylized his verses. I can't say for certain, but just going off of the role that the beat plays in establishing everything from the emotionality of the material to the cutting tone of the piano as it's presented at the start of the song, I would have to assume that tempo and pacing were the cornerstones of this release's initial design. This isn't to suggest that the lyrics are somehow a throwaway in "Five Rings" at all, but merely to note the intimate knowledge this player has of his depth as a beat-maker more than anything else.
Beyond the grooves in this track, DICI's singing has a very gentle feel that is even more sensuous than it was the first time I heard it just a couple of short months ago. He seems a little more available to us in this performance, as if he's letting his guard down and gelling with his surroundings in the studio more than even he had anticipated he would be at this point in his young, budding career. He's shockingly unhesitant when getting after the hook, and whether rapping or giving us more of a soft croon, he doesn't seem to be shaken by any of the twists and turns that the structure of this composition has in store for him – the opposite, to be perfectly frank.
The momentum growing behind DICI is the real deal, and I think it is all because of the way he's maturing as a songwriter. There's no selfishness in his narratives, and although "Five Rings" sounds personal and not derived from the pages of someone else's book in life, it's not so insular or cut off from the mainstream as to be inaccessible to us, the general audience. He's already aware of the value in making himself open as an artist rather than closing off, even if it's a means of generating original content, and provided he keeps steering away from the shortcuts a lot of his rivals would just as soon take in making their way into the spotlight, I don't see anything about his swelling good fortune changing toward the negative.
Gwen Waggoner