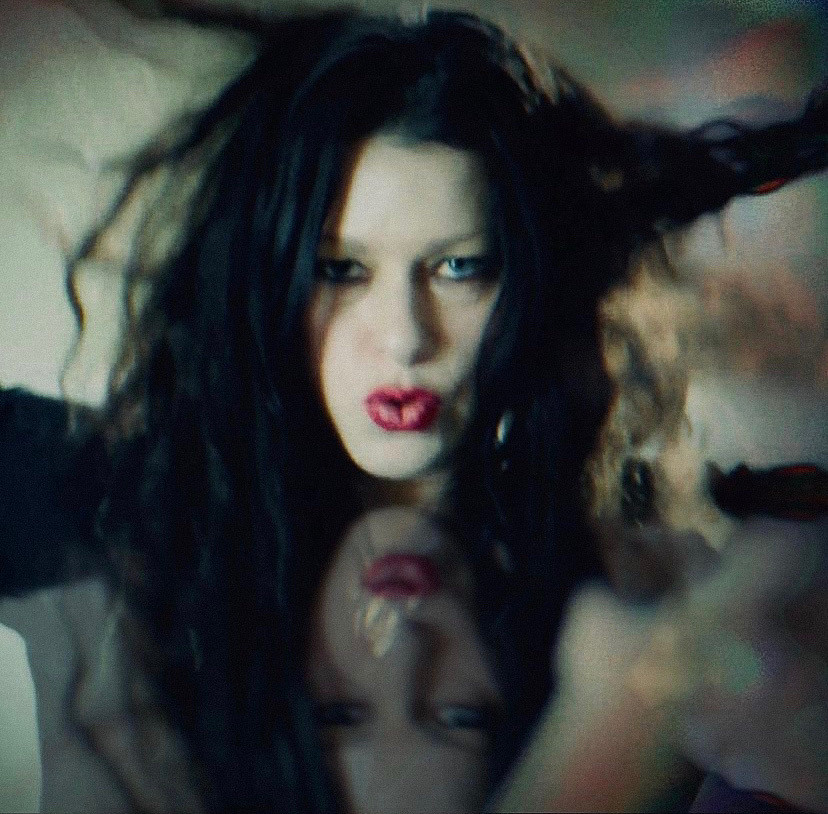 Written & Recorded In Her Home Studio During Quarantine, Tangerines Is "An Escape And Sanctuary Amidst The Chaos"
On the heels of the successful launch of her latest hit single and video "I Want All My Shit Back," renowned multi-instrumentalist, vocalist and celebrated music collaborator Sierra Swan, has unveiled details for her much-anticipated six-song EP. The renowned artist, who is best known for her work with The Smashing Pumpkins Frontman Billy Corgan, Cold, Dollshead and as a solo performer, will pre-release Tangerines Friday, May 14 on Bandcamp at https://sierraswan.bandcamp.com/album/tangerines and offer on all DSPs Monday, May 17.
Describing the EP as "a journey, with each song completely different from the next but each celebrating freedom in a fun, almost instinctual way," Swan wrote, recorded and produced all but "Peach" (written by Corgan) in her home studio during Covid as a way to "escape and provide a sanctuary amidst the chaos."
"I knew when I started writing this EP that it was not going to be very organic. I already made that decision based on my equipment and the necessity to work mainly in my headphones," said Swan. "I was also just not in a singer/songwriter kind of mood. I wanted to have fun, considering the world around me seemed to be the complete opposite at the time."
The result is a multi-dimensional, eclectic collection of songs that range from the edgy, dance-pop vibes of "I Want All My Shit Back" and the hook-laden title track "Tangerines" to the ethereal beauty of Corgan's piano ballad "Peach," on which Swan enlisted LA's esteemed Section Quartet to perform.
"The vibe of this EP is definitely 'the world is changing right before your eyes.' It is technicolor AND black and white all at once," said Swan. "Everything and nothing is happening at the same time. The record sounds like a woman in her forties going through a pandemic with two kids and a husband, wanting to escape to the basement and have a little fun while venting about the world's problems. All of that energy is in this EP."
While sonically different from her past five albums, Swan's signature, smoldering voice, which Corgan has hailed as "the most pure [he's] ever heard," is as palpable as ever. As is her ability to transport listeners on an emotional voyage that ventures into depths that few artists dare to go.
The official tracklisting for Tangerines is:
I Want All My Shit Back
Tangerines
In The Long Run
Troubled Boy
To The Moon
Peach
Tangerines is Swan's sixth solo album. Her break-out 2006 debut Ladyland was produced by Grammy® Award-Winner Linda Perry and featured a duet with two-time, Grammy® Award-Winning Singer-Songwriter Aimee Mann. She followed Ladyland up with three back-to-back releases: Coward (2007 on iTunes), Queen of the Valley (2008) and Girl Who Cried Wolf (2009) before unveiling her critically-acclaimed 2014 album Good Soldier, which was produced by Corgan. In 2018, Swan released the EP Caterwaul, produced by Grammy® Award-Winner Chad Hugo.
In addition to her solo work, Swan has made her mark in the industry as a member of Dollshead and appearing on albums with such notable artists as two-time, Grammy® Award-Winners The Smashing Pumpkins and Gold Album-selling rock band Cold. She has also performed alongside her iconic father Billy Swan, who played rhythm guitar for Kris Kristofferson, and toured and collaborated with Ringo Star and the other half of The Eurythmics Dave Stewart.
For more information about Sierra Sawn, visit: http://www.sierraswan.com
To stream or download Tangerines starting May 14, visit https://sierraswan.bandcamp.com/album/tangerines
Follow Sierra Swan on social at:
https://www.facebook.com/Swan5
https://www.instagram.com/sierraswan