America may be the land of opportunities, but Europe, the elder sister, is the land of dreams. If you want to move to Europe and work there, you are in the right place.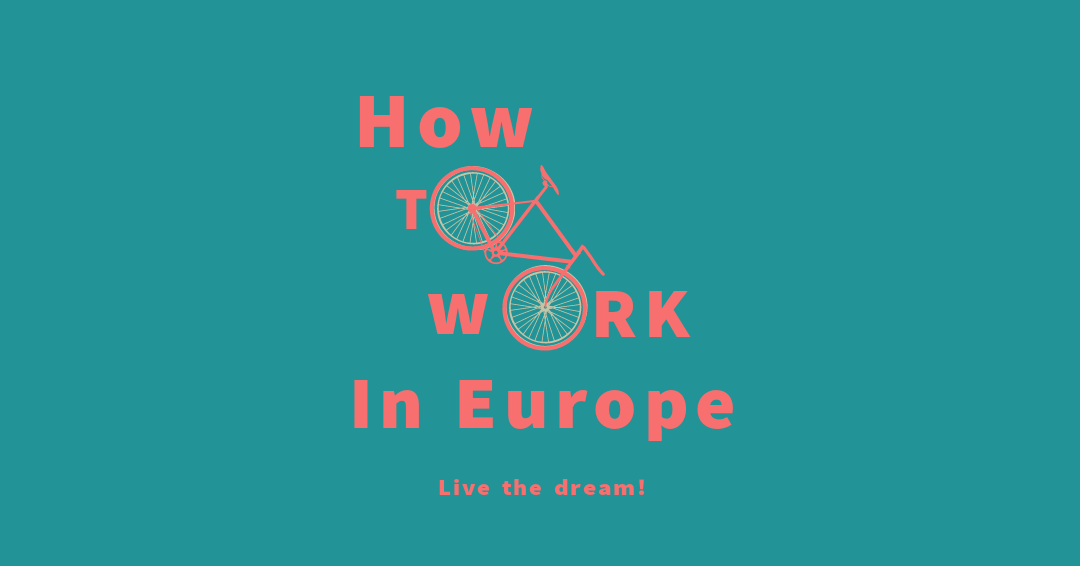 Scroll down to find some practical tips on how to get a job in Europe and a work visa. More importantly, you will find the prerequisites that are critical to making a successful career in Europe.
But before that, you must know about Europe; most of you might already be familiar with the information given.
Europe 101
Europe is a continent shared by 50 countries, and they are as diverse as two countries can be; their cultures, history, governance, language, and labor laws differ widely. Even the European Union — 27 member states, collaborates only on political grounds.
So, Narrow-down where do you want to go?
You will find it all in Europe — fast-paced London as well as serene Icelandic towns. Needless to say, bigger cities like Berlin and Manchester have more job opportunities than other places. Some places have more American expats than others. Plus, weigh in the demand factor; few cities will value the skills you have. Prominently, the cost of living differs too — some will pay you more (for the same job) than others.
How to start the job Hunt?
Even before gathering your document, you must start looking for the ideal job. Just like in America, finding a job will not be straightforward; further, the availability of the work depends on your educational qualification, job experience, the country you want to work in, and the languages you speak. Here's a way to go about it:
Explore your options
Countries in Europe are open to all types of jobs; depending on the skill-set, duration of work, you are likely to find a position of your interest.
Still, two primary factors precede all the requirements; language (more on this later) and individual state laws, i.e., countries will have reserved rights for the local citizens. Plus, your duties might be more than a native working the same position; so, do your research critically.
Look upon the Internet
Be it for any position or role, Internet — online employment websites have substantial listings for all job roles. Websites like Robert Half and CareerBuilder have dedicated sections for English-based jobs, whereas sites like GoAbroad and EuroJobs can help you find industry-specific works.
Find a job after moving.
Not many companies will be willing to hire an individual based on an online interview. If you have the budget to go to the desired place, it is better to visit the local job centers and then find the ideal job.
Jobs for English Speakers
Only a few countries in Europe are English-speaking; so, you have a lot of opportunities in language-based roles like:
Teaching
Being the primary language of the world, almost every country in Europe includes English in their academic curriculum; finding a position as a teacher of English might be difficult in America, but in remote European countries, it will not be difficult at all.
Tourism
Europe welcomes millions of tourists each year, and a lot of them are from English-speaking countries. From being a ski instructor to a professional tour guide — depending on personal interest and skills, you can easily find a position in the tourism industry.
Take your current job with you.
If you already have a job and it allows you to work remotely, then what's better than taking the job with you and traveling to European countries simultaneously.
How to get a Work Visa?
Being a citizen of the United States, you do not need a work visa to apply for work. You can first visit the country and then get the work permit and residence certificate with the help of the American Embassy.
However, the period in which you have to get the certificates varies based on the chosen country. For instance, you can live up to 180 days in Iceland without any work documentation, but you will have to turn up a certificate within 90 days when working or living in Norway.
Prerequisites of making a successful career in Europe
Finding a job and getting the Visa might be substantive things, but do not miss on the basic things that can make a huge difference in your career success:
Research about all the required documentation
Be it any country, the documentation and paperwork needed from a foreigner can be tremendous. Aside from having all the required documentation, ensure that you have everything up to date and keep it that way ( after moving).
Learn the new language
While your position might not require you to learn the language, it will come in handy once you get there. So, if you have time before you get everything in order — invest a fraction of your day in learning the new language.
Learn about the new culture
This goes for both:
Work culture
Work rules and employment laws will vary from that of America; the job requirements, expectations, work-life balance will change, so it is salutary to learn about the work culture in advance.
Local culture
This goes without saying that learning the local culture will help you maintain the cultural identity and connect with the local people. So, pick some magazines, watch their movies, and try to pick on their dialect.
Take your belonging
While it is more of a personal choice, whether or not you want to take your mattering stuff, like your favorite couch — the option is worth considering. It will also be a lot cheaper than buying all the things that you already have. So, if you want to take your home with you, do not hesitate; get in touch with an International Moving Company and arrange everything for a lot less.
Conclusion
Several of you might still be hesitating in taking this giant leap. But rest easy, and walk ahead, see what the new world has to offer.