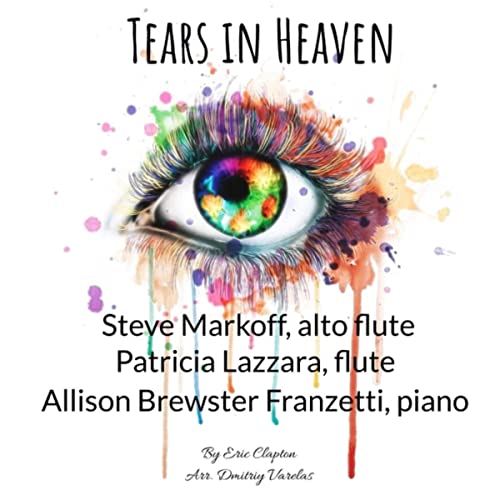 When I hear the words "Tears In Heaven" I immediately think of the MTV unplugged video from 1992 of Eric Clapton pouring his grief out on the stage. If the song doesn't make you cry at least once, there might be something wrong. The song, written about the loss of the rock star's young son, was held in high acclaim around the world. So how do you take a song filled to the brim with haunting sadness in every word and translate it into an equally powerful instrumental arrangement? Steve Markoff, Patricia Lazzara, and Allison Brewster Franzetti seem to have that figured out. From the first warm piano chords played by Brewster Franzetti to the final wavering flute notes played by Markoff and Lazzara, their rendition of "Tears In Heaven" is every bit as moving as the original Clapton song. This exciting new single was arranged by Canadian composer Dmitriy Varelas, who has worked with the trio before on other projects including their 2019 album "Timeless."
WEBSITE: https://www.lazzarkoff.com/
FACEBOOK: https://www.facebook.com/allison.franzetti
"Tears In Heaven" is held together by Allison Brewster Franzetti's strong, bright piano playing. It is the backbone of the track and seems to flow from her effortlessly. That would make sense considering she's been a Grammy-Nominee multiple times for her solo music, and has a Doctorate in Musical Arts. She provides a technically perfect base for the song, a smooth river of piano, while the flutes dip and soar like birds overhead. It is somehow melancholy and joyful at the same time; an appreciation for the beauty of the song without losing it's true meaning.
Patricia Lazzara's concert flute hits every note beautifully, you can almost hear the words to "Tears In Heaven" in her soulful playing. Lazzara is a flute juggernaut, playing at venues such as Carnegie Hall, and winning multiple awards for her classical, chamber, and solo music. She's a truly sensational player, her instrument comes across light and breathy but still powerful. While the flute can become high pitched, she never becomes shrill, even the highest notes are pure and easy. While putting out albums with Markoff and Brewster Franzetti is fairly new, Lazzara is not a newbie to the recording world, having an impressive 9 studio albums already out with various other ensembles.
This wonderful trio wouldn't be complete without Steve Markoff's meandering, earthy, rich alto-flute. While Lazzara is a genius flute player, Markoff's playing is less polished in the best way. He creates this lovely, melty layer of almost sleepy sounding harmony that binds the piano and the concert flute together, rounding out the whole performance. Markoff's slightly jazzy approach injects the final bit of soul into the piece. He didn't even begin his journey with the flute until he was in his 50's, becoming Lazzara's student. She recognized his innate talent and he ended up co-producing and performing on her last solo project, "Radiance." (2018)
AMAZON: https://www.amazon.com/Patricia-Lazzara-Allison-Brewster-Franzetti/dp/B085JW5HT4
While it is impossible to outdo the true grit and sadness in the original Eric Clapton version, Steve Markoff, Patricia Lazzara, and Allison Brewster Franzetti have created an incredible emotional instrumental retelling. They seem one with their instruments and can tell a story without saying a word. Keep an eye out for their next album set to drop in 2022, full of pop and rock covers, along with more Eric Clapton treasures.
Julia Albano