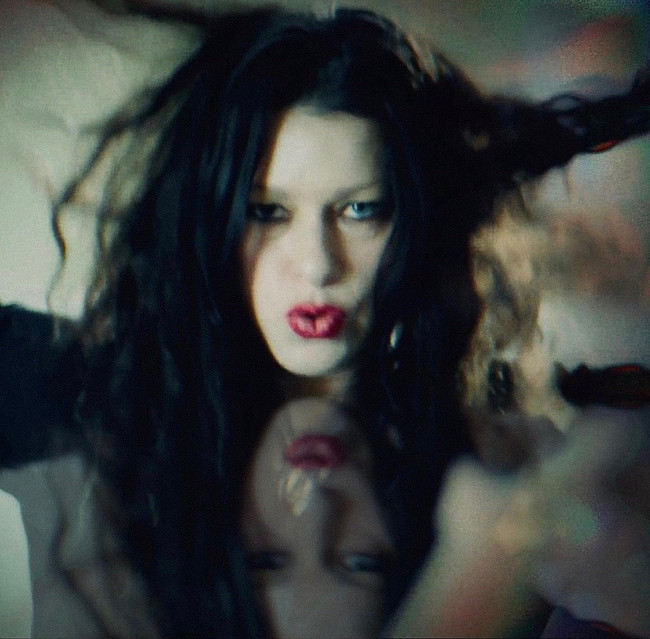 Renowned multi-instrumentalist, vocalist and celebrated music collaborator Sierra Swan, who is best known for her work with The Smashing Pumpkins Frontman Billy Corgan, Cold, Dollshead and as a solo artist, has revealed details for the first official single and video from her forthcoming, six-song EP Tangerines (May 10, 2021). "I Want All My Shit Back" will be released on all DSPs Friday, April 30 along with the thought-provoking video but Skope has the exclusive first look TODAY.
Encompassing a fun, free-wheeling, underground, dance vibe – driven by Swan's "experimentation of beats and sounds" – her latest single, as well as the rest of the new EP, are a departure from her past singer-songwriter releases. She says this was based out of both necessity and an attempt at sanity amidst the Pandemic.
"Like most people, Covid hit and isolation was in place. My basement studio is really the only place in my home where I can escape, as I have two kids and a husband. So, it became even more of a sanctuary for me during that time," Swan said. "I knew from the start that this EP was not going to be very organic. I already made that decision based on my equipment and having to work mainly in my headphones. I was also just not in a singer/songwriter kind of mood. I wanted to have fun, considering the world around me seemed to be the complete opposite at the time. This song and the album are a result of that."
While sonically different from her past five albums, Swan's signature, smoldering voice, which Corgan has hailed as "the most pure [he's] ever heard," is as palpable as ever. As is her ability to transport listeners on an emotional voyage that ventures into depths that few artists dare to go.
"I Want All My Shit Back," in particular, exemplifies freedom. According to Swan, she wrote the song about "that moment when you are finally sick and tired of the bullshit and how fantastic that feeling is – to just finally have had it."
Swan is supporting the single with a video she directed and starred in that she says was inspired by her city of Minneapolis in the wake of the tragic death of George Floyd. "I have lived in Minneapolis for about six years and this year has been awful for the city. That's why I wanted to make a video that celebrated the people I have met here and the city itself. I just collected some Minneapolis friends and asked them to participate. Each of their moments are very unique and fun. Also, the video is about nothing is ever what it seems."