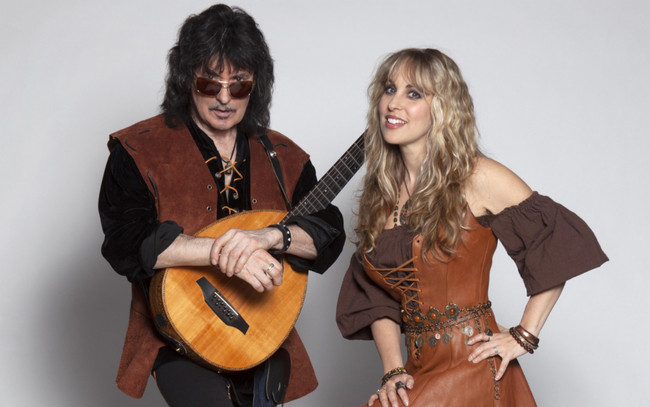 Internationally renowned Renaissance folk rock band Blackmore's Night release the official music video for their new single 'Second Element', taken from their new studio album "Nature's Light", released on March 12th, 2021. According to Candice Night, 'Second Element' is a love song dedicated to source of all our lives – water: "We've been big fans of Sarah Brightman for many years. And her work with Frank is just incredible. When we heard the song on an album that she had done many years ago, we just instantly fell in love with it. Second Element II. But there were two versions of it that she recorded. One, she does as more of a love song. And this other one, it's really still a love song, but it's a love song to the element of water, and how water is the source of our lives. And how traveling through rivers and springing up life everywhere it goes. And it was just such a fascinating concept.", says Candice.
"We thought that it would be a perfect home to do a song that was so entwined with our theory of Nature's Light and the element of water. And that what the song wound up being, the Second Element, which was the water element and so vital and magical to us and to the world around us." Blackmore's Night have created a magical rendition to Sarah Brightman's classic song, while still putting that unique Blackmore's Night twist on it. The single is being accompanied by a wonderful music video, now available on the band's official YouTube channel.
"Second Element" is now available for immediate Streaming & Download: https://blackmoresnight.lnk.to/NaturesLight
Having achieved international success, with several gold records and a global track record of sold-out performances, Blackmore's Night have crafted a 20+ year legacy of merging medieval melodies with rock elements, initially evidenced on Ritchie Blackmore's groundbreaking work with Deep Purple and Rainbow.
Singer/songwriter/multi-instrumentalist Candice Night seamlessly blends her ethereal vocals and lyrics, along with a command of numerous classic woodwinds. With Blackmore traversing all matter of six-string instruments, from acoustic and electric guitar to mandolin, mandolas, hurdy gurdy, and nyckelharpa, the result is a unique listening experience.