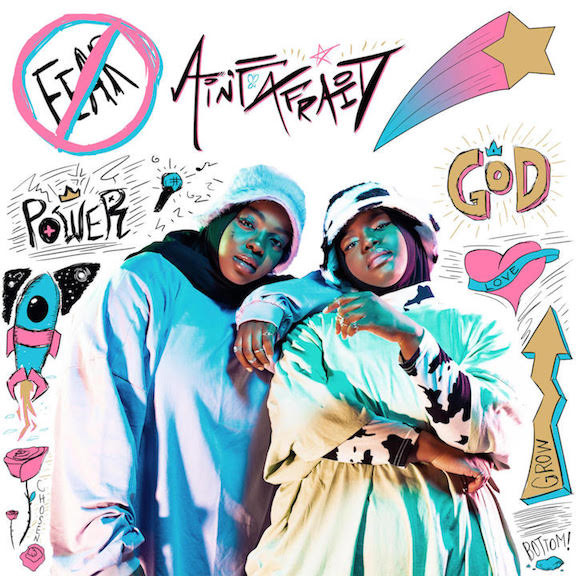 Aint Afraid is a duo that creates positive rap music. However, they also list acting, storytelling and modeling as some of their many creative outlets. They also wear their hijabs unashamedly in performance, which reveals then to be two artists that are quite serious about their religious faith. Their album is, nevertheless, filled with plenty of uplifting sounds.
STREAM: (Spotify)
https://open.spotify.com/album/3rtsEThcbz9DxWCbRHlVAv
The project opens with "Bonnie and Bonnie," an unabashed ode to friendship. This one, like most of the tracks on this project, is built around a sparse, percussive groove. It's disarming in its absolute sincerity. Sadly, when children become adults, they begin to shy away from overtly praising their friends. Not so with this pair, though, because they not only love friendship, but also make this friend-centric piece the album's opening track.
This project may not be packed with overtly religious content, but "I Got God" is an exuberant celebration of spirituality. With its keyboard backing, this song has an irrepressible gospel vibe. Having God, this lyric reminds us, gives people a kind of confidence that can be found in no other terrestrial relationship. Although also not explicitly religious, "Rover _ Benz" flies in the face of hip-hop music's negatived obsession with materialism. These women don't need a luxury car to be happy. Whereas many popstars glory in the purchase luxury sleds as validation of commercial success, Aint Afraid is already successful — with or without bling. In the rap realm, these ideas are borderline revolutionary. Maybe, just maybe there are higher pursuits then showing off our high-priced wheels. Cars don't make the man or woman, just as clothes don't make a person who he/she is. "Smile" is yet another positive song. It's a reminder that we should all smile because everybody is loved by somebody. It's such a simple thing to smile. And its contagious. In this hip-hop musical genre, it's far more popular to look tough and hard. Smiling makes a person appear human and vulnerable. Aint Afraid ain't afraid, so to speak, to reveal their human side. This is also revolutionary in the act's chosen genre.
Some of these songs are just pretty. "Crimson" is one of these. It's a soft rap, created around a moody keyboard bed. These women can sing just as well as they rap, which is why a transition from toughened rapping, to (in this case) mostly singing, is not at all jarring or surprising.
https://www.instagram.com/aint.afraid/
It's so common to hear angry music on the radio these days. Granted, there is (seemingly always) something to be angry about. Turn on the news any night of the week, and you'll see and hear someone protesting something, somewhere. Not to be too cliché, but so much of what folks express these days are glass half empty feelings. There's nothing wrong with celebrating the other half of that glass, though, which is half full. Aint Afraid is most decidedly a half full musical act. Maybe this album will brighten your day. Hopefully, its beauty will put a smile on your face – one you're willing to share with a friend or stranger that really needs one. Yes, we live in an increasingly troubled world. However, there is much beauty in it if you choose to look for it. Aint Afraid has intentionally looked for what's truly lovely about our modern world and took studio time to celebrate all this good.
-Dan MacIntosh