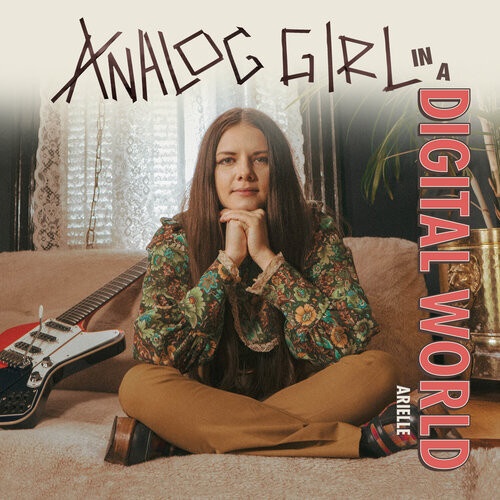 Arielle, the Texas guitar playing singer/songwriter and Brian May Guitars developed "The Arielle" guitar around the same design as her "Two-Tone" she built when she was 16. Arielle gets the most out of a minimal amount of electronics, and does a nice job with layering the background vocals.
Dial Up. If you forgot about the old computer dial up tones, this will refresh your memory. Digital World is a good pop song. Piece of Mind is a folksy rock tune.
– https://imarielle.com/analogstream
This Is Our Intervention starts out like a ballad then picks up tempo, reminiscent of The Bangles sound. Still a Man is a fast paced relationship song with a definite blues/rock edge. Inside and Outside is a nice acoustic based ballad. I'd Rather Be In England is a fun quirky compilation kind of thing with tempo and direction changes, and some nice licks. Living in a Fortress is a slow acoustic
ballad describing what's going on in her head. Reimagine Redefine is a haunting ballad with some interesting vocals and guitar work.
In listening to this, it makes you think back to the early 70's folk/ballad era. I hate to use the word "Hippy", but I will. Some of the vocal overdubbing takes your ears back to George Martin's work with The Beatles. This release was recorded in three different studios by combining half old school analog, and half digital tracks.  Nice guitar and tasteful slide work, impressive enough to have THE Brian May design a signature guitar for. Arielle has four live stream events planned, starting on May 13. Staying in synch with her hippy like attitude, she vows to plant a tone-wood (guitar making wood) tree for each of the first 25 signature model guitars sold!
NOTE: The Tonewood Forest is a nonprofit dedicated to growing, planting and maintaining tree species specifically harvested for musical instruments, known as "tonewood" trees. These include mahogany, ebony, rosewood, koa, alder, birch and other endangered species of trees due to over harvesting. Check them out.
– https://www.sonicperspectives.com/news/arielle-announces-global-release-of-new-studio-album-analog-girl-in-a-digital-world/