While Colin Roy Monette is a self-described blues guitarist, much of the music on his album Lucky* album is wider ranging than just that. Instead, this album covers a lot of sonic territory.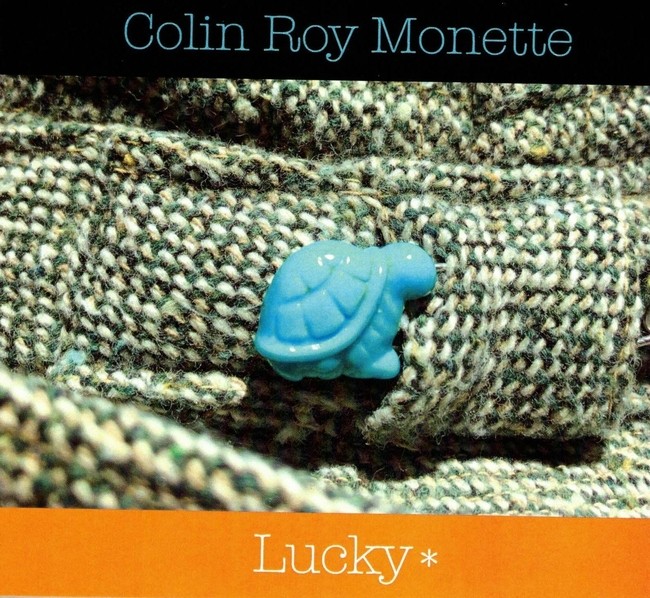 The album opens with "Honest Man's Misery," an acoustic blues track. However, "Hills Of Sage" is a driving, acoustic folk tune. This one features Monette's wispy lead vocals. Additionally, it sports a rocking electric guitar solo. "Face In The Clouds" is another selection that sidesteps blues music. It's built upon a sturdy acoustic fingerpicking pattern. "Caffeine City, yet another folkish number, may remind you of George Harrison's solo work; at it has that sort of a vibe running through it. "Feel Free" is upbeat, with a handclapped rhythm and a touch of rockabilly propelling through it. "Go to California" is nicely spiced with harmonica fills.
Nevertheless, there's plenty of blues. One titled "Aurora Borealis Blues" is an amplified blues workout, while "What Is Cool" is a stripped-down blues instrumental.
The song "Today" is about as close as this album comes to sounding like modern rock. "I saw the world today/Blew my mind away," Monette sings. It's a lyric that resonates deeply – probably for all of us. Over the last year or so, we've seen things happening in the world that we've never seen before and – hopefully – will never see again. It's not specific what Monette is singing about with this lyric, but it can certainly be applied to our contemporary virus-dominated circumstances.
The album's title track, "Lucky*," closes the album with a rambling, free-spirited piece. Lyrically, it's a kind of traveling song.
Monette has mastered multiple musical styles, which is way he's been asked to accompany both folk and jazz performers, among others. He has music degree from McNally Smith College in St. Paul, MN, and has taught guitar for ten years. He regularly performs with his band, the delightfully named Spaghetti Monetti & the Sauce.
Colin Roy Monette is impossible to tag with just one musical style. He loves playing guitar and can adapt his playing chameleon-like to nearly every known genre. He doesn't touch upon absolutely every sonic approach on Lucky*, but what's included here suggests he knows nearly no musical boundaries.
He may think of himself as a guitarist first, and singer second. However, he sings well throughout. He's a smooth vocalist that doesn't moan or growl during any of these recordings. Instead, he sings in a pretty, tuneful voice.
Sonically, this album is sparse, simple, and straight to the point. One doesn't get the impression Monette is a studio experimenter. These tracks don't include studio trickery. Instead, Monette just lays them down naturally. He lets the performances speak for themselves. One imagines live performances of these songs sound nearly exactly like their recorded versions.
Although guitarists will immediately dig this album, it is not strictly a 'guitar guy' album. If you're a fan of soft rock and folk-blues music, this album will also hold appeal to you. They say it's sometimes better to be lucky than good, but Colin Roy Monette is all good on this album, which is accomplished with all skill and no need at all of good luck.
-Dan MacIntosh