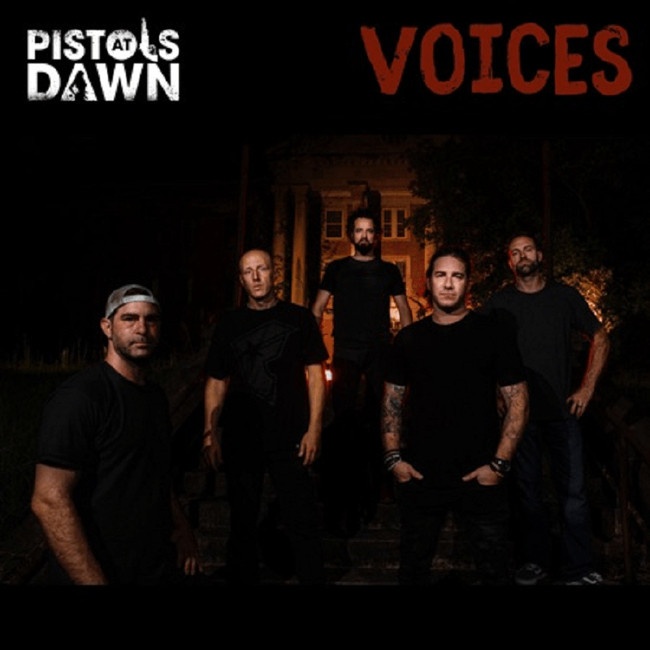 Coming in with the sounds of dueling trashing guitars and a guttural roar of voice, that's how Pistols at Dawn's new single "Voices" starts. It's a song made of pure raw energy and emotion especially given how to lead vocals Chris Pierson imbues so much power and emotion to phrases like "erase from the start, controlling the virtuous life, emotion runs over I can't find closure" and just the way he says these lines with this beautiful fluidity is more than enough to keep you hooked.
INSTAGRAM: https://www.instagram.com/pistolsatdawnofficial/
The group, lovers of old school and more modernist rock icons like Disturbed, AC/DC, and others have preserved their love of this sound thanks to the phenomenal work of drummer Adam Jaffe, guitarists who work in the perfect form together Mike Buffa and Tommy Richardson and bassists Billy Sulivan who helps ground the work steadily working alongside Jaffe. In many ways, it sounds like we're listening to legends in the making, mainly because when you listen to the track you're stuck with this familiarity, like you've heard this song but can't quite remember where, but you know a song like this has existed forever, come to find out it's the recent vision of these guys. It's a type of power very often bands can't achieve to cut through a musical lineage like that.
An exciting thing to note too is that the band is still relatively new having released their first EP last year and we're just now starting to get an inkling of who they are and in my opinion, you sometimes get the most honest work from the early years of a performer since they have nothing to lose and nothing but honesty to give to their audience, which these guys do in spades. The song has great pacing too and for being a track that's 4 minutes long, in a time when songs are getting shorter and shorter to be able to stream more repetitively, there's a stable hand at the helm and the way the group builds to an exciting climax is just unforgettable.
The music video for the song is interesting and potentially filmed with certain restrictions due to the pandemic, at least that's my assumption, but much like the song, it's oozing with a very clear design and mood they're trying to convey. The guys have an unassuming look, as they look like guys who are in a band, but looking at their photo and looking at them performing are two wildly different experiences, and when they're pouring their hearts into their instruments, it's just unreal. The group cited that they want the video to make the listener feel connected since the song is all about intimacy and trying to form bonds in these hard and chaotic times, and you definitely do feel close thanks to its uses of close-ups and the way the band is framed even if the editing might be a little wonky sometimes, but the effect generally is achieved to very good success. You can stream the song now on Spotify, Soundcloud, and Youtube.
Gwen Waggoner