Marty cut his metal chops with Cacophony followed by Megadeth, and hasn't stopped shredding (he dislikes the term) since. Marty has resided in Japan for a while now adapting to their culture and music, and regularly appears on Japanese TV shows. If you're looking for innovative song structure and a lot of power/speed guitar here it is, the third installment of Marty's Tokyo Jukebox series. Joining Marty in this free-for-all is bassist Kiyoshi and drummer Anup Sastry. There are also some sparingly used keys on the recording. The Japanese are some of the biggest instrumental and guitar fans in the world, noticeably since The Ventures conquered the country and were declared idols back in the 1960's. Friedman friend Jens Bogren mixed the release at his Fascination Studios in Sweden.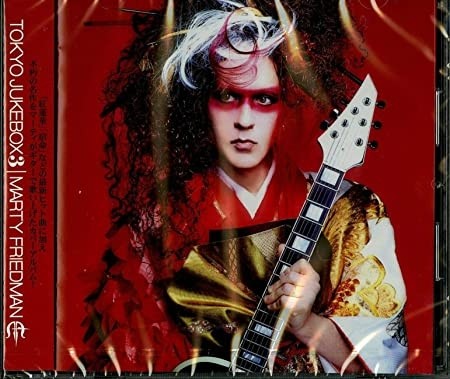 I hate spelling, let alone foreign words. Oh well. Mainly an instrumental album, it's not a question of which came first, the chicken, the egg, or which axe shredder's riffs. This release catches your ears with an almost Trans-Siberian experience, complete with riffs with a slight glint in the styles of Alex Skolnick, Gary Hoey, Steve Lukather, Brian May, Satriani, and dozens of others. Marty covers the Japanese material his way, which by not hearing the original song I probably wouldn't appreciate the original as much as I do these versions.
The 12 track release includes versions of LiSA's "Gurenge" and Official Hige Dandism's "Shukumei," Da Pump's dance track "U.S.A.," Sekai No Owari's ballad "Sazanka," with a piano intro that would be a great soundtrack song, and the vocaloid hit "Senbonzakura." Japanese old school standards covered are, Zard's "Makenaide" and Every Little Things' "Time Goes By", and Ikimono Gakari`s 'Kaze Ga Fuiteiru'. The Perfect World is a good track with strong vocals by Arufakyun. Echo is a rocket fast song, starting off with a vintage Cleveland DJ's weather announcement. Nice touch! The Japan Heritage Theme Song was written as an official song to be played at government sponsored events celebrating Japanese heritage, at the request of the Japanese government. It features the Tokyo Philharmonic orchestra in which his wife plays cello. This is a really nice flowing ballad with cool guitar flashes going in and out.
Marty has the ability to combine various familiar melodic parts with totally fresh things, and change up the tones and effects. His solo releases make him stand out as a complete master of the fretboard, not just another axe-grinder. There's that metal influence going on, but not limiting the creativity. His touring has built a faithful fan base that had to wait for this release due to the Covid crap. The extra studio time involved was obviously well spent. His creativity even extends to his attention to detail in the wardrobe and makeup on the album/CD cover. Want a master class guitar lesson? Here it is!