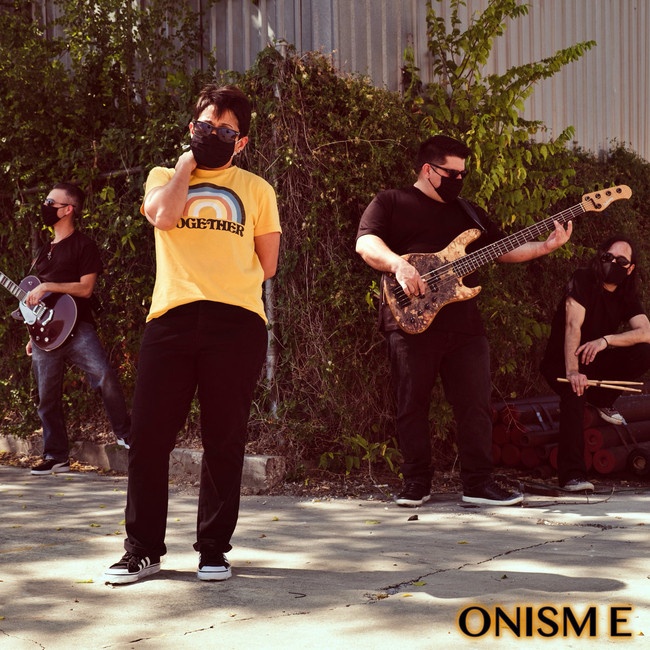 Onism E is putting the indie rock realms to rights with their recent album 'Survivors'. The four-piece outfit is embarking on an adventure of astounding audio experience, with 'Survivors' pushing the envelope on what indie-rock means to us. Furthering the canon of fantastic female forces, Eline Chavez fronts the group with all the passion and power of an artist in their prime. Guitarist Chris 'Lefty' Vargas, bassist Chris 'CeeRod' Rodriguez and drummer Raj sculpt a supporting soundscape swimming in absorbing ambience, grunge guitar lines and driving drum riffs. With onism's meaning rooted in the 'awareness of how little you will really experience in life,' Onism E is bringing the experience to us with their immersive atmospheres and ethereal energies — and we couldn't be more grateful.
'Survivors' is the sensational set of songs setting our lockdown life on fire this Spring. With seven songs oozing flair and a formidable musical foundation, 'Survivors' is the elevated indie-rock album we've been waiting for. With over 150,000 streams since its release in February, it's clear each second has been worth the wait. Opening with the alt-rock anthem 'Stay', 'Survivors' starts with an undeniable bang. Raj's dynamic drum lines drive this track along as Eline showcases exactly why she's such a force to be reckoned with in the rockier realms. 'On The Edge' moves into more acoustic atmospheres, with Chris 'CeeRod' Rodriguez's bass bouncing admits the mix, laying a bed of booming bass for slick transitions to bloom. The title track 'Survivors' is truly captivating. Lyrically, this song holds a lot of power. With overwhelming honesty and a relatable resonance, Eline Chavez has penned a song perfect for those moments you just need the world to be put on pause. Chris 'Lefty' Vargas' guitar elevates the airwaves with grunge-fuelled gestures, accumulating in a distant dialogue with Eline's lyrical laments.
The genius of Onism E lies in the eclectic influences swimming in the tides of their sound. Matched with Eline Chaves' innately real, relatable and (quite frankly) inspiring lyrics, Onism E are (as their name suggests) expanding our audio experiences. It's safe to say we can all call ourselves survivors after the year we've all endured, Onism E has just given us a soundtrack to sing about it. As normal life begins again, at the top of our post lockdown list has to be seeing the stunning sonic experience of 'Survivors' live.
https://www.instagram.com/onism_e/
Listen to 'Survivors' – https://onisme.bandcamp.com/album/survivors
By Sasha Lauryn