First thing that I noticed when I hit play on 'The Blue Sky Sessions' was the stellar guitar playing by KD Bantz. KD isn't just a super-talented guitarist but he also adds in vocals, dobro and harmonica on the new album. 'The Blue Sky Sessions' also includes: Tim Beeler on bass, Will Brown on percussion, Jon Gillespie on keys and Todd Harold on drums. There is a special guest on the record who plays on one track and his name is Kenny Aronoff. Kenny Aronoff is a world-renowned drummer who has played with many iconic acts such as: John Mellencamp, Paul McCartney and The Rolling Stones just to name a few.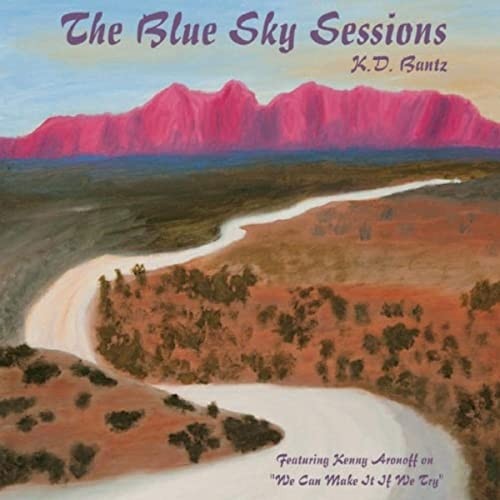 'The Blue Sky Sessions' is the fourth studio album for KD Bantz and three years in the making, so blood, sweat and tears was poured into this record for sure. The album kicks off with a song titled "Blue Skies And A Smooth Stretch of Road" that has a really cool guitar riff and a smooth, bluesy style in place. I picked up on a Carlos Santana influence on this track due to KD's guitar playing and musical style. Next, you will hear "Citizen" that offers a rockin' beat and one that will have you proclaiming Power to the People! The listeners will want to stand up and rise up for guitar goodness with relevancy on "Citizen". Moving along, we are "Going to Mexico" and KD Bantz is not looking back! This song has a real, easy-going feel that is appealing to the ears, so buckle up because we're "Going To Mexico"! Track four, "Flight of the Monarch", provides a sensitive approach stylistically where KD is playing with purpose. "Flight of the Monarch" shines through with a wonderful & personal instrumental that glides along at the perfect pace. KD Bantz is stealing the spotlight on "Pick Pockets" with a song that packs a powerful punch. Prepare for a splash of reggae and old school blues on "River Of Hope" that instantly rushes over you. Soak it all in on "River Of Hope" and get drenched with pleasing melodies. On track seven, the listener will receive an easy-breezy, "September Kind Of Day" that also includes a BB King influence. As Beastie Boys once said, "Slow and low, that is the tempo," and that is "September Kind of Day" in a nutshell. On track eight, KD is breakin' out the harmonica and bringin' it on home on this light-mannered tune and "This I Know". It's time to move to the groove and tap into the infectious rhythm on ""Ur So Criminal" that is equipped with a snappy beat. I detected a Stevie Ray Vaughan-esque vibe on "Ur So Criminal", so don't fight the feeling and just jam out to the sounds of KD Bantz & company. The final track, "We Can Make It If We Try", features drummer Kenny Aronoff and overall is a vast soundscape that is rich & deep in texture. This song kicks off with a delta blues sound in the intro and we then roll into rocky hills & plateaus that come crashing in with authority on "We Can Make it if We Try". This closing number gives off a fiery finish on drums and guitar where all the musical worlds collide into one.
I was highly impressed with this 10-track recording and I am now a KD Bantz fan. Musically, 'The Blue Sky Sessions' has a little something for everyone and truly relates with regular, everyday people. The material speaks volumes and KD Bantz is able to connect with folks on a higher level through music & lyrics. I say 'The Blue Sky Sessions' should play on for days to come and I can't wait to hear more from KD Bantz!
By Jimmy Rae