Calling on each other in beautiful harmony, rising singer songwriter Ellysse Mason teams up with Pop-music connoisseur Matt Wills for heartfelt new single 'Perfect'.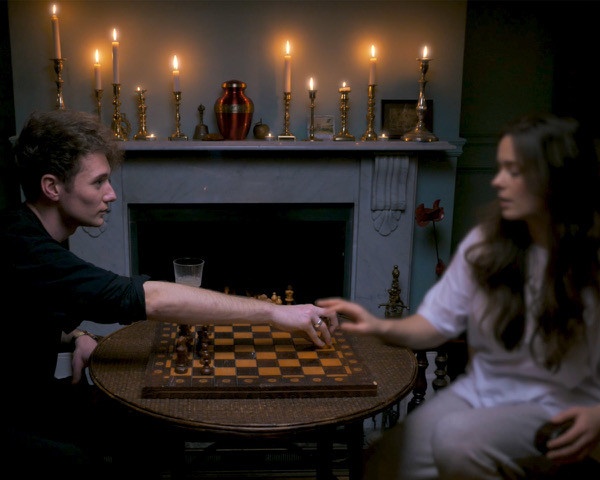 Emerging with wistful piano chords and ambient guitar flourishes, the pair play off each other's distinct and soulful voices over a sea of crashing percussion and hazy electronica waves. A stunning concoction of their individual styles, they shine equally in the artful video shot by by Michael Whiteman, which sees the duo playing a candlelit game of chess, a nod to the intricacies of modern relationships.
Speaking on the track and video, they said: "We ended up having a few drinks talking about our relationship situations. Ellysse was sitting by this old, noisy electric piano playing chords and as we were talking, we ended up turning our conversation into a song. We didn't even think who or what we were writing the song for; it just felt easier to chat about it all as a song. Before we knew it, it was 3AM and we were both so tired we put in some scratch vocals before heading to sleep. I woke up forgetting we'd even written it until I heard my manager playing it downstairs… We tried reproducing it over and over again, but in the end something about Ellysse's tipsy piano playing and our tired vocals just felt special and, in the moment, ended up being used on the final record. I love the song as it feels so conversational and two people really speaking their mind without any undertone of "we're writing a song so it needs to be like this" the honesty of it all to me really is the beauty of it."
A far cry from your girl next door, Manchester wunderkind Ellysse Mason is worlds apart from the wave of singer songwriters people try to group her with. Penning songs exclusively from true experiences, she possesses an inner core built on determination and indomitable Northern grit. Simultaneously futuristic and nostalgic, her unique sound has amassed over three million Spotify streams, whilst securing positions on New Music Friday Playlists worldwide. A rising star in the Manchester music scene, Ellysse has developed a prolific fan base of over 400k followers on TikTok and her latest single "Sweet Talkin" received key support from THE INDEPENDENT.