The pandemic isn't a reason to stay apart. It's a reason to get together. A debut single from the new duo Doves Peak reminds us to take this chance to find courage.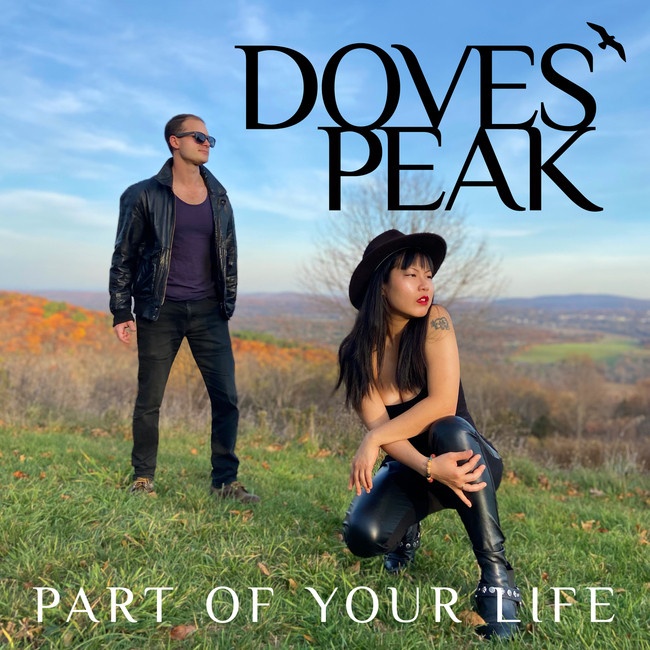 f anyone ever needed an excuse for a loss of interest in intimacy, it's easy to blame the pandemic. Stress, depression, and anxiety are way up; we can't visit whomever we want, whenever we want; and to top it all off, we're stuck with the same few people all the time. "Part of Your Life" encourages us to get over our fears and believe in love again.
Instagram: @dovespeakmusic
Facebook: @dovespeak
Doves Peak's debut single "Part of Your Life" speaks about trust in the midst of a developing relationship. The song is a remedy for dealing with the changes that are happening in the world. In times of fear, the song asks us to be brave, and issues a challenge – now is the right time to prove our love.
"If you could see how much I need to be a part of your life"
For Russell Kranes and May Cheung, Covid 19 has been a motivator to start fresh on multiple levels. Together, they decided not to let the pandemic put a damper on their plans for their duo.
"Please take my hand and trust me. This I know will change your life."
Doves Peak is best described as a neo-soul band with gospel and pop influences. "Whatever I play and write, I can't help but churchify everything that I do. It is a part of me, and a source of everlasting gratitude," says Russell. May is a versatile vocalist who has put out several albums, drawing from a crossing of Gospel, R&B, Folk, Pop, and Jazz. Her voice is warm, powerful and enveloping. "We agree on so many facets and approaches to songwriting and the musical chemistry is evident," said May about her partnership with Russell. Covid loomed but the two refused to let that stop them, meeting in an open garage to rehearse and record.
"If we take this chance to find courage…"
We hope that "Part of Your Life" can inspire you to reach out to someone you'd like to be closer to.
Discover "Part of Your Life" here: https://dovespeak.bandcamp.com/track/part-of-your-life