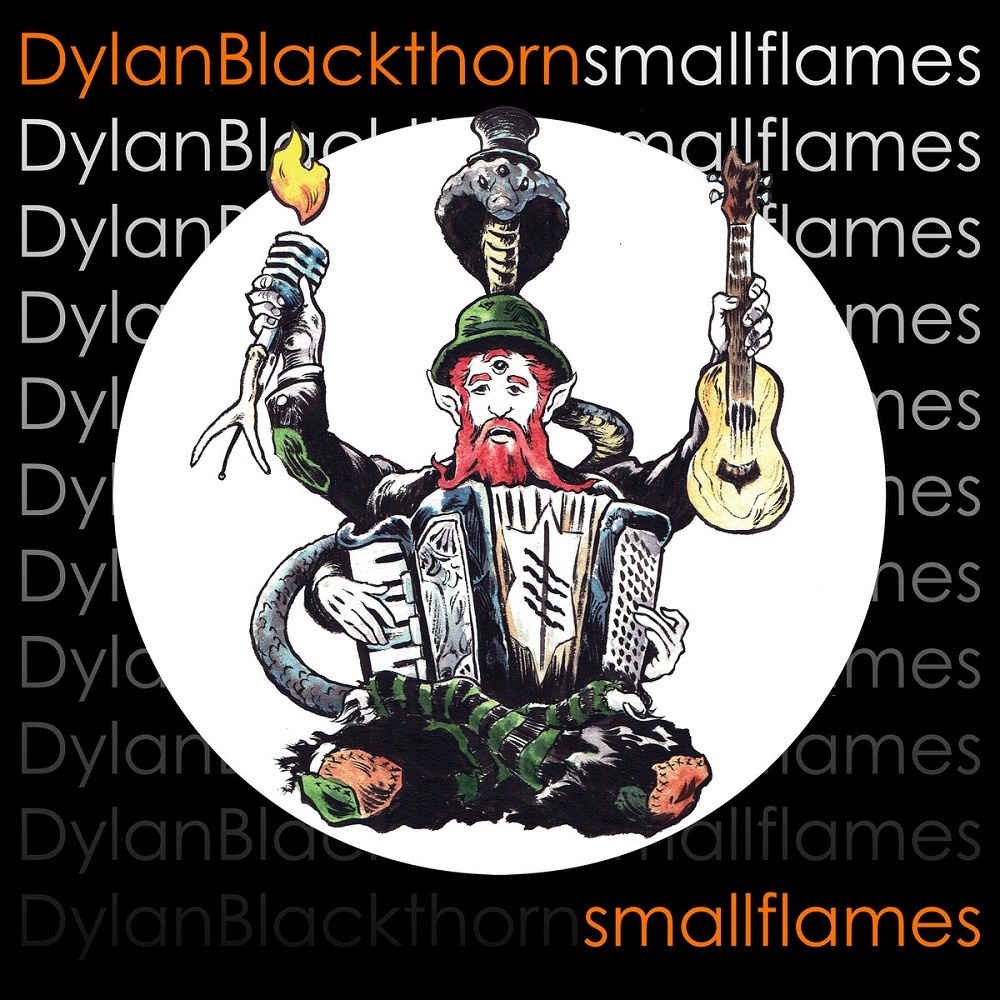 Dylan Blackthorn's small flames is the first solo release from a long-standing stalwart member of the Austin, Texas music scene. I haven't heard of this talented songwriter and musician until taking on the work of writing this review but can say, without question, I'll be interested in hearing any future writing and recording. The accordion master is a composer, singer/songwriter, Tarotlogist, and poet originally reared in California sunshine before opting for a move to the music focused climate of the Texas state capital. He covers a tremendous amount of stylistic territory throughout the album's thirteen tracks but owes the bulk of his artistic debt to an assortment of traditional folk styles and his accordion playing carries much of the load during . It starts off on a memorable note with the first cut "Played by the Numbers".
FACEBOOK: https://www.facebook.com/DylanBlackthornMusic
The brawling accordion and harmonica playing laced through the first number gets this release off to a wild and wooly start. It doesn't begin that way. Blackthorn marries a brief melody-filled introduction onto the up-tempo main body of the song and, instead of sounding jarring, the two disparate approaches come together with nary a hiccup. His vocal is full of enthusiastic zeal but is never overdramatic. The third cut "Stoked" has a strong country influence both musically and lyrically, but Blackthorn blends it with his customary elements for an unique aural confection many listeners will admire. It is brief and to the point; Blackthorn doesn't waste the listeners' time in any way.
The duo of "Ten of Wands" and "Silver Halo Blues" share important differences and similarities alike. The former stands out from the pack thanks to its effective use of electric guitar and, even with this instrument, listeners will have a difficult time identifying passages where overplaying is the order of the day, Instead, the six string playing gives the first track an added dimension and fierceness it would otherwise lack. "Silver Halo Blues" is an unusual song lyrically, but it never poses an obstacle for Blackthorn's attempt to connect with listeners. His talent for picking compelling images capable of piercing listener's consciousness and lingering long after the final note separates him from the pack.
DOWNLOAD IT: https://dylanblackthorn.bandcamp.com/album/small-flames
He goes back to first principles with the track "Float". It's a bit more melancholy sounding than the other performances recorded for this release and has a more traditional slant; note the presence of acoustic guitar woven into the arrangement. The drumming for "Folk Magick" is one of its high points, but his vocal makes a deep impact as well. The words reference his personal interests in the same way the earlier "Ten of Wands" does, but he once again does a first class job of making the personal universal. "Starry Secrets" ends the album. There's really no other track fit for this position. Blackthorn takes his time developing this track into a monumental final musical and lyrical statement, but it's the arrangement that wins the day for him here. Dylan Blackthorn's small flames is a wildly impressive solo debut and deserves consideration on any "best of 2021" list critics such as myself may be already starting to concoct.
Gwen Waggoner