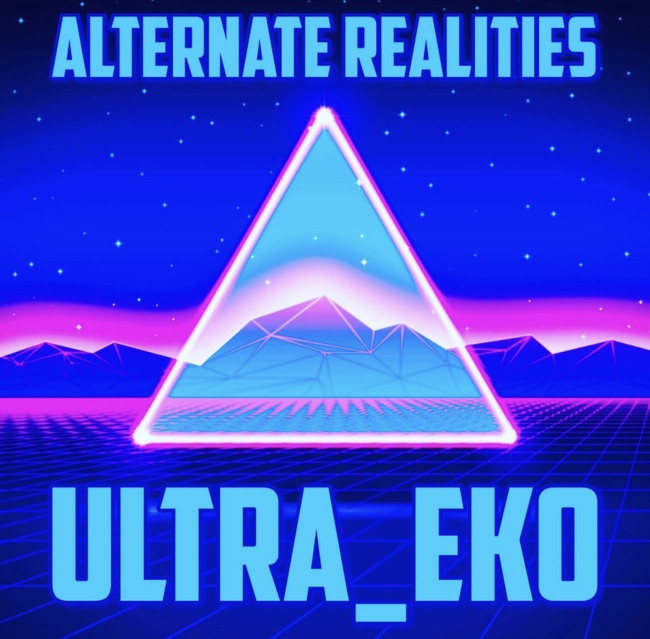 Yes, Ultra_Eko is a rapper that creates hip-hop music. However, his album Alternate Realities incorporates so much more than mere rap music.
Although Ultra_Eko raps most of the time, he actually sings during the chorus to "Day Tripper." Much of this music is tough and streetwise, but "Always on My Mind" (which is not the Elvis/Willie Nelson/Pet Shop Boys hit) reveals his softer side. It is the closest thing this album has to a true love song.
In a few places Ultra_Eko puts out explicitly autobiographical lines. One, called "My Old Man" is an ode to his father. It's underpinned by a funky, electric guitar groove. Then with "Halo," he tells us about his youth, where his mother thought he was her little angel. That's quite a confession for a rapper that wants to be taken seriously as a street-smart artist.
Ultra_Eko is obviously a smart, well-read man. One titled "For Whom the Bell Tolls," for instance, draws its title from a famous John Donne poem, and it lyrically references another famous Donne work, "No Man's an Island." "Ashes to Ashes," which begins surprisingly with jazzy acoustic piano runs, speaks bluntly about the inevitability of death.
"Ashes to Ashes" is not the only track that incorporates unusual and unexpected instrumental elements. "Usurped King" opens with an upfront, driving bass line. There are also tracks that sound closer to alternative rock songs, than typical rap tracks. "Keep Busy," for instance, at times sounds like Blur-meets-Radiohead-meets-The Cure. It has a rock rhythm to it and includes the notably uneasy lyrics: "Keep busy/Keep busy/Keep monsters away." It sounds like he's describing someone with bothersome internal demons that can only be drowned out and kept at bay with constant activity.
Unlike most pop music created by male artists, Ultra_Eko doesn't have a whole lot of songs about boy/girl relationships. One called "Girl from Round the Way," which is another track with a soulful groove, sounds more like an ode to booty calls – especially its line about babies that grow up not knowing who their fathers are. Speaking of soul sounds, "Cash Money" includes funky guitar and horns (or, at least, faux horns) for a sound that somewhat resembles Earth, Wind & Fire.
https://www.instagram.com/ultra_eko/
There's also something special about somebody rapping with a British accent, which gives these songs extra authority. Ultra_Eko is from South London, and while he has a streetwise approach, he nevertheless cannot hide his English roots. It's fascinating how music that was invented on the New York streets, is also relevant when sung from the perspective of an artist an ocean away. Street life, though, is just as real in London, as it is in New York, Compton or any other urban area. The city names and even the accents change, but the stories remain the same.
While American rap artists borrowed from American hard rock at times, Ultra_Eko's "Keep Busy" draws from many noteworthy British alternative rock icons. At its best, contemporary music is one, big, beautiful melting pot, which makes Alternate Realities one enjoyable alternative to familiar American hip-hop.
-Dan MacIntosh