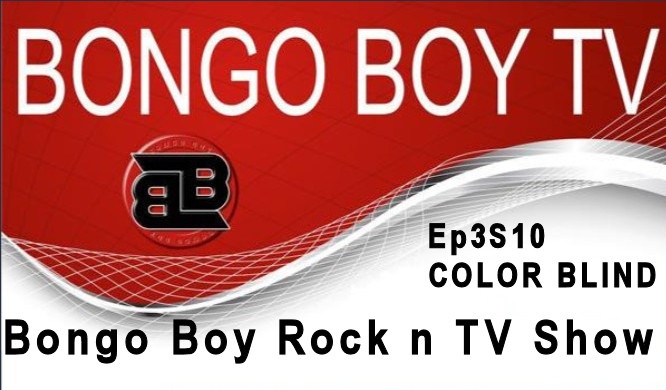 Bongo Boy TV Season 10 Episode 3 featuring music videos from around the world by these featured artists.
This TV episode premiers on Tuesday March 2, 2021 in Portland, Oregon on Channel 29 at 10:30pst and is followed by a total of 72+ Terrestrial TV channels rotation in the USA. Besides this heavy TV rotation each TV episode includes streaming in HD on Vimeo
Annemarie Picerno employs a certain degree of southern gothic charm on the darkened corners of "COLOR BLIND". Her voice contains so much passion behind it that it contains multitudes. Lyrics here serve as the very beating heart of the work showing off her impressive storytelling ability.
Righteous fury flows through the Dead Daisies' "Holy Ground (Shake The Memory)". Volume is an absolute must for the sound is a sheer force of nature. Riffs rock and roll on through while lyrics are shouted above the din in a truly commanding, attention-getting way.
The pared-down perfection of Emily Edrosa's "She Agreed" has an intimacy behind it. By keeping things to the essentials, she gives the sound a tender, timeless touch. Her voice has such an earnestness that allows it to unfurl at its own distinct pace.
Crisp fresh beats tie the whole of Meresha's "Red Headed Lover" together. The hypnotic grooves recall a hint of Sophie's insistence upon a glossy, pop finish. A sense of love ties the whole of the work together as a yearning underpins the message.
Getting the party started, Robyn McCorquodale goes all in with the tremendous scope of "We Fly Together or We Don't Fly At All" which stuns. Everything here works as the multi-faceted, multi-layered approach results in a sound that is easy to get lost in. From elements of pop, funk, and dance, the song radiates good vibes.
America's Sweetheart "Face To Face" has a beauty to it. With a hushed open, she lets the sound grow in unexpectedly beautiful ways. Hints of the Fleet Foxes' orchestral folk arrangements permeate the entirety of the work.
Artist Name: Annemarie Picerno
Music Video: COLOR BLIND
Album Title: COLOR BLIND
Record Label: Amplifiedsound, Bongo Boy Records
Music Video Director: Annemarie Picerno
CITY and COUNTRY: Nashville, TN
Band Name: The Dead Daisies
Music Video: Holy Ground (Shake The Memory)
Album Title: Holy Ground
Record Label: SPV / Steamhammer
Music Video Director: David Pear
CITY and COUNTRY: Los Angeles, CA
Artist Name: Emily Edrosa
Music Video: She Agreed
Album Title: Another Wave is Coming
Record Label: Park The Van
Music Video Director: Emily Kempf and Ryan Hart
CITY and COUNTRY: Los Angeles, CA
Artist Name: Meresha
Music Video: Red Headed Lover
Album Title: Red Headed Lover
Record Label: Sonic Dolphin
Music Video Director: Johan Planefeldt
CITY and COUNTRY: Palm Beach, FL
Artist Name: Robyn McCorquodale
Music Video: We Fly Together or We Don't Fly at All
Album Title: We Fly Together or We Don't Fly at All
Record Label: Robyn McCorquodale
Music Video Director: Mark Ellis, MuvoMedia
CITY and COUNTRY: Vancouver, BC, Canada
Band Name: America's Sweetheart
Music Video: Face To Face
Album Title: Majorette
Record Label: America's Sweetheart Holding
Music Video Director: Jennifer Cobb
CITY and COUNTRY: Jersey City, NJ
TV Spots
FUN FACTS Presented by Jeralyn Glass
Crystal Alchemy Singing Bowls
Song Title: Gymnopedia
Album Title: Vibrance
Record Label: Bongo Boy Records
Bongo Boy TV Submission
Official Website – http://bongoboytv.com
Vimeo TV channel: https://vimeo.com/channels/bongoboytv