Bluegrass is a style that depends on the prowess of its string players more than anything else when it comes to inducing chills in the audience. Delicate and forceful, texturally expressive and tonally present; the mandolin, the banjo, the guitar, the fiddle all contribute a verse of poetry to any given bluegrass performance, but in the new album Barry Abernathy & Friends, they're strangely not the strongest point of communication to behold. The Mountain Heart and Appalachian Road Show veteran Abernathy brings on Vince Gill, Rhonda Vincent, the late Steve Gulley, Shawn Lane, Dan Tyminski, Doyle Lawson and Josh Swift into this session for some vocal dueling that you won't soon forget, and no matter where you start off in this tracklist, trying to press stop before hearing every stitch of audio will likely be next to impossible. He might have started out with the intention of leaving behind a swan song here, but to me, the results are so much grander than anyone could have expected.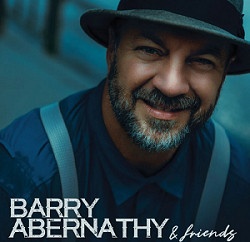 The vocal element is the undisputed centerpiece of this LP, and in "One Leg At a Time," "Back in '29," "Lost John" and "Midnight & Lonesome," Steve Gulley ensures it has a folky poetic quality not common enough in bluegrass today. There's a progressive influence to the chemistry he had with Abernathy that rivals the one and only Vince Gill's "Birmingham Jail" and "Short of Trouble" epically, ultimately allowing for some of the performances here to feel like competitive entries in a contest for our hearts. Collaborative mixers like this one should never be riddled with the sort of pretentiousness that too often infects alternative country and indie bluegrass efforts of a similar persuasion, and thus, we aren't faced with any such nonsense in the eleven songs found in Barry Abernathy & Friends. 
AMAZON: https://www.amazon.com/Barry-Abernathy-Friends/dp/B08QSDRHL4
Shawn Lane stops by for "Fall on the Rock" and "A Train Robbery," and as is the case with the Rhonda Vincent-backed "You'll Never Again Be Mine," the material feels tailored to the vocal stylings of all parties involved. I don't know how much time was spent in rehearsal ahead of getting everything down in the studio, but there's such a fluidity to every song here that I would have to assume these players know a lot about each other's specific needs as musicians. Dan Tyminski becomes a force to be reckoned with in "Unwanted Love," as do Doyle Lawson and Josh Swift in the powerhouse "They Tell Me," with Abernathy at the helm of the ship constantly guiding the course towards success. 
Seamlessly arranged and surprisingly revealing about the sideman whose name is in the title, Barry Abernathy & Friends doesn't need critics behind its tracklist to win the affections of bluegrass fans everywhere this year – but, nonetheless, I think it's going to acquire quite a few accolades between now and 2022. Abernathy has had one of the more curiously adventurous careers of any player within his circle that immediately comes to mind, having been born without all ten fingers and still becoming a prolific string musician, and though this record doesn't try to cover all the bases, it unquestionably offers a closer look at his artistry (and one that might not have been accessible to us without this crowd of celebrity-grade talent stepping in for some fun). He's got my attention as always, and I think he's going to have yours sooner than later as well. 
Gwen Waggoner