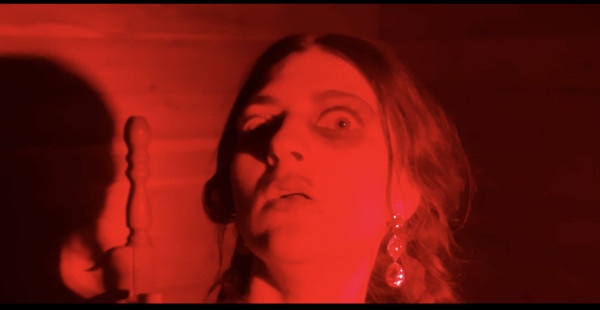 Before its official release today, last night Revenge Wife (Elizabeth Nistico) invited her fans to a midnight screening of "Earthquake," the first in a series of horror-themed videos directed by Nistico herself, which will culminate in a surreal nightmarish short film. As Revenge Wife, Nistico (formerly the lead singer and co-founder of acclaimed indie pop duo HOLYCHILD) steps out of her comfort zone and into a captivating new persona that allows her to explore trauma and abuse that has shaped her life through music, video, and art like never before.
"My fascination with horror comes from trying to examine fear in myself and how I can move forward knowing that fear is inherent to the human experience. I'm making art to try to understand myself and be a more stable person." Liz continues, "Going into relationships, or into anything I really want, is so terrifying for me that I feel bound by trepidation. The horror film aesthetic really brings out the fear that blankets my concept of love." She adds, "I learned so much about filmmaking from the music video for 'Earthquake'.
Revenge Wife is the latest music, video, and art project by Elizabeth Nistico, former lead singer and cofounder of indie pop band, Holychild. To date, Holychild boasts over 30 million streams on Spotify and 5 million streams on YouTube. Nistico has directed more than 40 music videos for Holychild and other artists. She has also co-written songs for other artists including "Xanax Damage" by Future. She has sync deals with Apple and Old Navy to name a couple brands. She has toured with Passion Pit, Walk the Moon, and MØ. Her video work has been featured at MOMA. Nistico has been featured in Vogue, Nylon, Paper Mag, Billboard, NME, Huff Post, Spin, EW, and Earmilk. Elizabeth was also a columnist for V Magazine.