Mike Beezy is making noise on the ATL Georgia hip hop scene! Mike Beezy has just released a new music video based around the theme of the classic movie New Jack City but with a positive twist. Instead of killing people with drugs and violence, Mike Beezy is killing the music industry with his dope lyrics and music.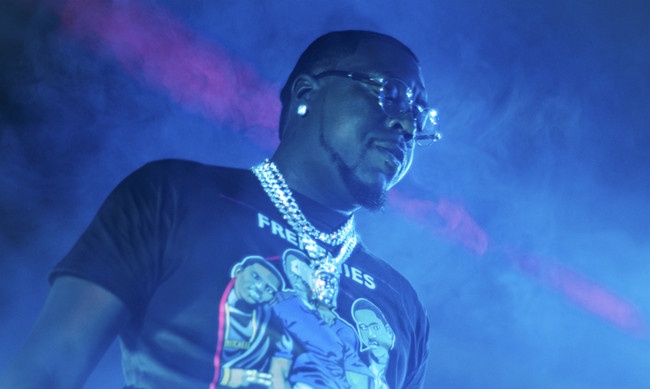 After engineering multiple multi-platinum artists and #1 billboard charting music, Mike Beezy is blessing the world with his impending #1 chart smash hit single called "Mr. Him Him".
Mike Beezy… is more than just music…
Born in Wisconsin, Mike Beezy never thought of his life being what it is today. As a child music and performing was part of his life. He was in a choir with his Mom and like many teenagers spit rhymes in high school to impress the ladies. Yet while he was performing in any and every talent show he could enter, his brother saw something that Mike Beezy would discover only after the untimely death of his brother. Two days before his passing he told Mike Beezy that music was his calling and gift.
Fast forward to today, Mike Beezy is a platinum and gold plaque holding recording engineer. He's been on tours, signed to both major and independent labels and has experienced the plus and minus the entertainment industry has to offer. However. he is most known as, "the engineer of the stars" for names such as; Chris Brown, Lil Boosie, TI, Migos, T Pain, Ty Dolla, Usher, Babyface and the list goes on. Mike Beezy by industry standards is considered to be a triple threat because he is a performer, songwriter and producer (even though he doesn't make beats) Many say those skills are what makes him such a sensational engineer. Yet if you ask Mike Beezy, he will tell you it's his third ear. He states that he can hear an artist's sound before they hear it themselves. Yet when you really dig deep you find that it's his passion for music and sound that contributes to his greatness.
If you ask Mike how long he has been doing music he will reply that he has been in the game for 17 years but in the industry for 8. Which means he spent about 9 or so years trying to get on before he got paid. Now if that isn't dedication and passion for what you do what else is? Yet when you hear how he got his first position within the business you soon realize that it was his destiny along with his talent that has enabled him to succeed. He tells the story that Lil Boosie called him on his cell to see if he could fix his computer. Mike Beezy thought it was a prank and hung up. Boosie called back, they talked and then Mike Beezy went to his house to help fix his computer. The story goes that Boosie left and came back and asked Mike what else he does and Mike played him some of his music. Boosie then asked who did his engineering and the next day Mike Beezy was engineering for Boosie. Mike worked his regular job for an additional week and then quit and has never looked back.
If you ask Mike Beezy why does he do what he does… he is quick to tell you he does it all for his family. He goes on and explains that he has lost relationships along the way and that one of the most important things he had to learn was to put himself first. A humble man, Mike Beezy teaches many of his artist the truth. He is quick to tell you it's harder to stay on than it is to get on. He believes that one of the reasons for his longevity is that he bonds with the artist when he engineers their music. He also states that he only deals with serious minded artist. Time is not something you waste. Constantly working Mike Beezy has a catalog to prove it with albums sitting ready to be released. He is also proud to leave a legacy for his children. He works with his son YK Keim who just dropped his first project entitled "FA REAL."
So, what's new and next for Mike Beezy? A new record label (BARNES ENTERTAINMENT MUSIC GROUP), manager (Big I God of Big I God Enterprises), and more new music. Songs like "Tired of Hurtin", "No More Rain" featuring Big Citi or "Dear Lord Forgive Me or even his latest smash; "Mr. Him Him" can all be found on GT & Empire Digital distribution. As an artist who has been signed to a major label, Mike Beezy will tell you; "The game right now is independent and distribution." He continues by saying; "When you are on a major label they get 80 and you get 20. Yet, when you have your own label and independent distribution you get 80 and they get 20. I like those numbers better." Always a business man, while also a performer Mike Beezy is a perfect example of his motto; "Do not stop what is meant for you!" He didn't and even though he is acting in movies like Bad Boy 3, Boosie's docudrama, Big I God's & VH2 NETWORKS impending movie and is getting offers daily; music is his soul and will live long after he stops recording. That's not just hearsay it's what he does; "ear-say!