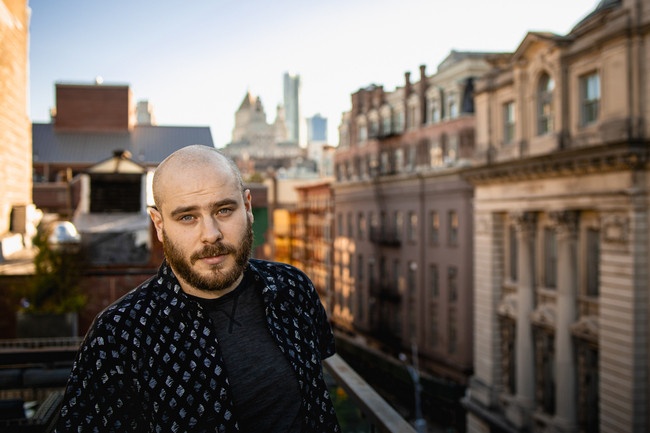 Leo Sawikin, a New York City-based pop/rock singer-songwriter and visionary artist, unleashes double-single with "Born Too Late" and "Take What You Want"
Leo Sawikin (former frontman of The Chordaes) sat down with @skopemag to talk about his new solo singles, "Born Too Late" and "Take What You Want" (out now).
@skopemag: This double-sided single features two songs that are quite different from each other. What prompted you to want to release them at the same time like this?
Leo: I liked the concept of releasing a single with a B-Side, like people did back in the vinyl era; it just gives listeners a chance to get to know me better as an artist.
@skopemag: What is the story behind each of the songs?
Leo: "Born Too Late" is about feeling like the world is in an awkward transition from a place where many people get to live relatively easy lives to a place where almost everyone has to struggle to survive.
"Take What You Want" is about a relationship where one person gives all of themselves and the other gives nothing. It's also about our relationship with death, and how we are powerless to stop the universe from reclaiming our bodies, and it's about the acceptance of that.
@skopemag: This double-sided single is part of a series of releases leading up to your album release ("Row Me Away") later this year. What made you want to roll out the singles this way?
Leo: It was actually my producer, Marc Swersky's, idea. We thought it would be good to have a couple of things to listen to if people like my stuff, especially now that we're in lockdown and people are probably spending more time discovering new music.
@skopemag: How would you describe the difference between your solo music and the music you made with The Chordaes? Who are your influences?
Leo: The biggest difference is that musically I know what I want now, and I understand the process more than I used to. As a solo artist, I have full control over everything, and there are just fewer limitations than there were in the past. My biggest influences are Brian Wilson, Radiohead, Jimmy Webb, Joni Mitchell, Jimmy Page, and Carole King.