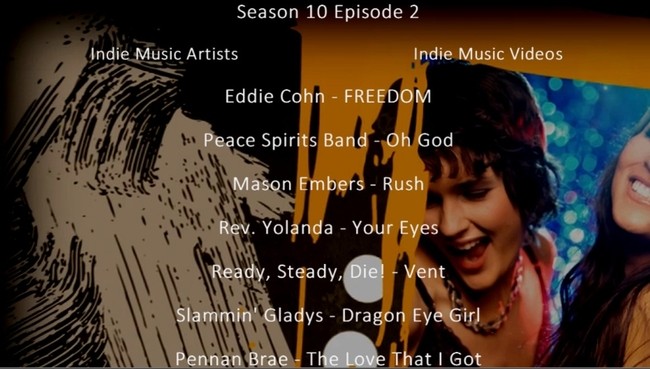 Eddie Cohn embraces an urbane sense of pop on the playful percussion of "FREEDOM". His lyricism possesses such poetry to it for each verse is balanced for maximum effect. Melodies waft on through with nimble crispness.
A classic AM pop spirit rises up from the Peace Spirits Band's "Oh God". Bluesy to its very core there is a quiet sense of beauty that the song radiates. Easily the highlight comes from the undeniabley rich cadence of the vocals that cascade with such clarity.
The rich textures of Mason Embers' "Rush" feels completely joyous to behold. His voice has such a reassuring quality to it. With an entire sound fully drenched in love, there is a sense of true peace that ties it all together.
Mysticism mixes with a sense of joy on Rev. Yolanda's "Your Eyes". Layer upon layer enters into the fray resulting in dreamy, tender tones that are a true pleasure to behold. Instrumentally too the song has such optimism that pours from it.
Ready, Steady, Die! offer a thoughtful take on the chanson with the sly grooves of "Vent". Everything about it works from the careful interplay of the group to her commanding vocals that rest right in the center. Patterns emerge and weave together in a fantastic tapestry of sound.
Old school funk enters into the fray on the Slammin' Gladys fiery "Dragon Eye Girl". A total trip they bring the listener along on a colorful journey one where they hold nothing back. From the nimble guitar work to the taut tempos, it all works wonders.
Pennan Brae pens a powerful piece of pure affection on the celebratory "The Love That I Got". Sung with such yearning there is a stately presence to the way it all unfurls. Volume is a must for this is a sound that deserves to be felt.
The Bongo Boy Rock n Roll TV show series is distributed on 72+ TV channels in the USA this is their next TV episode No. 2 Season 10
– Submit at submit@bongoboyrecords.com
Bongo Boy TV Season 10 Episode 2 featuring music videos from around the world by these featured artists.
Full details about each featured Music Video
Artist Name: Eddie Cohn
Music Video Title: FREEDOM
Album Title: FREEDOM
Record Label Name: Eddie Cohn Music
Music Video Director: Leslie Andrew Ridings & Eddie Cohn
Los Angeles, CA, USA.
Artist Name: Peace Spirits Band
Music Video Title: Oh God
Album Title: A Spiritual Tour
Record Label: Bongo Boy Records
Music Video Director: Kyla Lynn Vezina
Montreal Canada.
Artist Name: Mason Embers
Music Video Title: Rush
Album Title: The Good, The Bad, The Everything In Between
Record Label: Mason Embers, LLC
Music Video Director: Rexway
Atlanta, GA, USA.
Artist Name: Rev. Yolanda
Music Video Title: Your Eyes
Album Title: YolandaNanda and Volume XIX
Record Label: Bearded Lady Productions LLC
and Bongo Boy Records
Music Video Director: Rev. Yolanda
Brooklyn, NY, USA.
Artist Name:Ready, Steady, Die!
Music Video Title: Vent
Album Title: Pleasure Ride
Record Label: Human Label
Music Video Director: Morgan Visconti
New York, NY, USA
Artist Name: Slammin' Gladys
Music Video Title: Dragon Eye Girl
Album Title: TWO
Record Label: Jib Machine Records
Music Video Director: Eric Mittleman
Cleveland, OH, USA
Artist Name: Pennan Brae
Music Video Title: The Love That I Got
Album Title: 2 Below 0
Record Label: Celluloid FM
Music Video Director: Rob Fitzgerald
Vancouver, BC, Canada