Jude Gwynaire talks about his single, "Uzone – 25′ (White Light Mix)," via a brief Q&A below.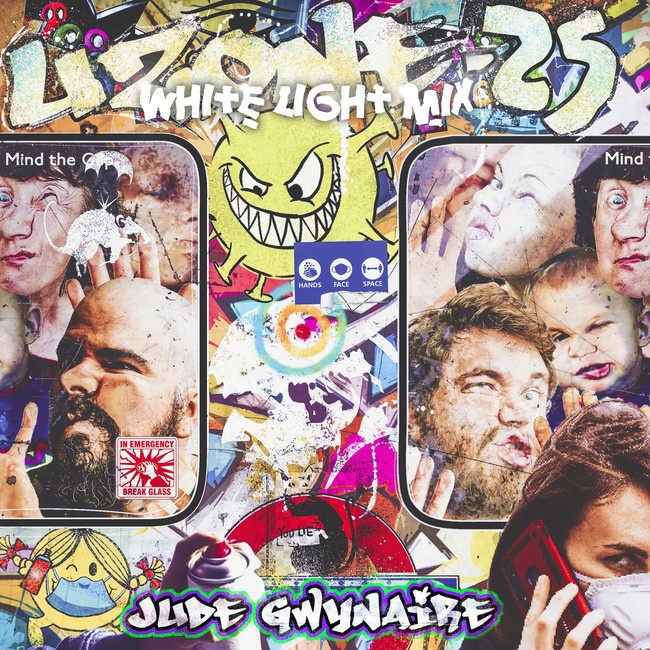 Skope: This track includes a brief spoken vocal. Is this rare for your recordings?
Jude Gwynaire: Yes, it is fairly rare. I've recorded a few tracks that have voices on, but not many. 'Paradise Star Inc.' and 'Candy Machine Girl' are two other examples. I used to write songs and sing as a teenager (and up to about 15 years ago) but decided to concentrate totally on composing instrumental soundscapes more recently. It's harder to capture good vocals and voices, I think. As a recording engineer on a very limited budget (and as someone who works for a living 6 days a week), I've often had limited funds and time, so keeping it simple by recording instrumentals or soundscapes has been my priority over the last few years. I think I've done reasonably well, but would love to expand my studio one day, and also add more vocals to my tracks…and, maybe, even write 'songs' again!
Skope: Who is speaking on it?
Gwynaire: In this case, it's my daughter.
Skope: Have you ever written songs with complete vocals?
Gwynaire: Yes, many years ago. I was heavily influenced by Donovan, The Incredible String Band, and the acoustic version of Tyrannosaurus Rex (when they did albums like 'Unicorn' and 'A Beard of Stars'). Donovan's 'Sunshine Superman' album and The Incredible String Band's '5000 Spirits (or Layers of the Onion)' would be two of my best 'desert island discs'! Such great albums…
– https://open.spotify.com/album/7c2TmQ95iaa1ykZ09pQK6J
Skope: Should it be surprising that someone with your literary skills doesn't also write lyrics?
Gwynaire: I just haven't written any lyrics recently, that's all. I could easily start again if the situation was right.
Skope: What is the "Uzone" referred to in it?
Gwynaire: When I composed the track, I imagined the UK living in a futuristic, dystopian society, where, among other places, the London Underground system had been taken over by a sub-culture of activists, yobs and homeless people. In my vision, each station on the Underground is now given a mere number instead of a name. UZone stands for 'Underground Zone'. The station referenced in the composition is number 25. On arriving at the station, instead of hearing a familiar station name or 'mind the gap' message called out on the tannoy, you now merely hear the number of the station – in this case, 'UZone-25'.
Skope: What is the significance of the White Light Mix?
Gwynaire: In the new mix, I wanted to bring in the Covid-19 pandemic as subject matter. Maybe the pandemic, poorly controlled in the UK, could cause a widespread 'urban breakdown'. Commuters packed like sardines in an underground train was too good an image not to use and is
representative of the lax precautions and measures taken by the UK Government, and many ordinary people, at times, toward the pandemic. During the first UK lockdown, I composed various 'Covid-19' related tracks ('Made In Wuhan', 'Lockdown In Tinseltown' and 'Virus Gun' being the most obvious). These ended up on my album 'Lemonhead Drive'. I hadn't intended to go down that road again, but the track just seemed right for one more visit to that dystopian world of doom, gloom and panic.
Skope: Are there multiple mixes of this song?
Gwynaire: No, only an original version. I was never totally happy with the mix, so thought I would have another go at it. In the 'White Light Mix', I managed to bring out aspects of the track that were less enhanced in the original.
Skope: What style would you categorize this song as?
Gwynaire: I guess I would call it a type of 'Techno-Electronica'. When I compose a track, I don't think in terms of subtle musical genres, I just go ahead and compose it. Some might think this track is a bit of a hybrid.
Skope: It strikes me as something sci-fi? Is that a fair reading of it?
Gwynaire: Yes, that's a good way of looking at it. It's definitely meant to be futuristic and dystopian (even though it sounds a little '80ish!). I think there's a bit of Gary Numan and John Foxx in there somewhere…
Skope: On Spotify, there's a picture of someone in a mask. Is this track at all Covid-19 related?
Gwynaire: Yes, definitely. The original wasn't, but the 'White Light Mix' takes an alternative spin on the track.