Sensational singer-songwriter Ione is back for 2021 with her new poignant EP 'The Tide Is Changing'. Expect powerful vocal arrangements, sleek productions and relatable themes told through candid lyrics.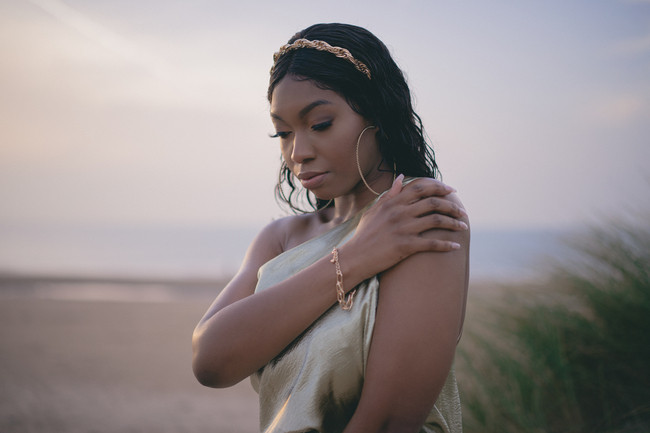 So, your upcoming EP is incredible! It has such a throwback feel. What was the process like honing in on such a unique sound? 
Thank you so glad you like the E.P! The E.P was made over quite a long period of time even though it's short so i didn't really set out with a particular sound in mind. I think it was more a case of I just stayed true to what I like and what I was feeling and it became clear in the making of the record what my sound was.
Your songs tell such a story. Can you describe your process of writing lyrics? 
I tend to write in different ways but these 3 songs I wrote by myself and in all honesty I just wrote what I felt. I believe in honing your craft so have taken songwriting courses and tried to go back to these songs and implement some "formulas" that "work" but it didn't quite feel write for these songs. I just started to hear melodies and words in my head when I heard the instrumentals and I just stayed out of the way and didn't judge or decide that today I want to speak about this or that. I just let it happen and it seems the core of what I felt and believe about situations come out.
If you had to choose, which is your favourite track from 'The Tide Is Changing'? 
Uhh that's so hard to pick I don't have a favourite they all mean something different to me and I love different things about them. But I would say that I love the lessons that Loved By You taught me most. I wrote that song and just wrote what I felt and as I mentioned tried to implement things like being more descriptive to make it better but it didn't work. The simplicity seemed to be enough. I didn't think that much of it until I sent it to a friend and to Gavin who did additional production and mixed the E.P and  they were both blown away.
And it taught me a valuable lesson in not judging my work just to keep creating as I never know which song will resonate the most. I didn't think for a second this would the the lead single from the E.P but went with their reaction. I also was moved buy the response to the lyrics. I didn't know how it would be received amongst the culture of ultra-independence and men are trash. I realised I was speaking a truthf for myself that made it ok for others to admit to feeling the same too.

You've done so much in your career as a performer! Any favourite performances? Or your most memorable? 
I once did backing vocals for an Italian artist called Mick Dimitri and he very randomnly knew Ed Sheeran. They met when he was Ed's waiter at a restaurant in Italy. And Ed being the nice guy he is let Mick email him some music and I guess they stayed in some sort of contact. I don't the ins and outs but it was a Monday and I got a message from Mick saying Ed had invited him to open up for him at San Siro Stadium in Milan and could I come and sing with him, I'm sure it was  only 2 days later.
It was amazing and the crew were so nice and it was the best soundcheck of my life which sounds small but it was so nice they took their time with us because in all honesty we were a bit of an add on as Zara Larsson and James bay were the support acts it was just Ed giving Mick an amazing opportunity to perform in a stadium on his hime turf which was such a lovely thing to do. The whole story just made me think that you really never know what's around the corner and to always put my best forward in terms of my own career.
If you could collab with any artist on the scene right now who would it be? 
I would to collaborate with Drake I just think he would sound perfect on a remix of Loved by You, Stefflon Don, We Are King and Mahalia.
Obviously it's super hard to sort out gigs right now. But when everything opens back up any plans for shows or tours for 'The Tide Is Changing'?
I would love to do a live stream concert in the first quarter of this year and when things open up do a mini tour, even if it's 3 dates just something that is my event would be great.
Any future plans coming up you can hint to? Any tracks we should look out for? 
I'm working on new material as my goal is to be consistent, I also have a collab with an artist who's songs we all know and love but I can't say anything more right now and I hope to have some merch out in the near future.
Ione's new EP 'The Tide Is Changing' out now. 
Check Out Ione on FACEBOOK | INSTAGRAM | TWITTER 
Listen to Ione's latest single 'Loved By You' on SPOTIFY NOW