BBC Introducing composer Neil March has a new EP entitled 'Alternatives To Despair'. The EP has already been featured on the Tom Robinson Show (BBC Radio 6 Music) and shows on Resonance FM, Amazing Radio, Exile FM and RKC.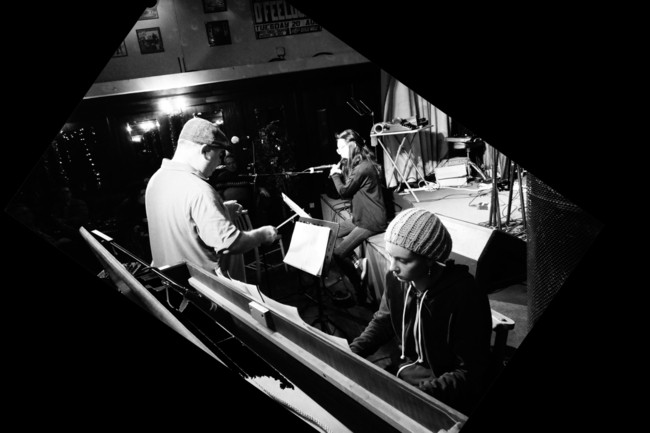 Neil, who performed on the BBC Introducing Stage at Latitude 2017 and at four subsequent festivals, is known for converting everyday environmental sounds into instruments of melody and harmony playing alongside actual instruments. 'Alternatives To Despair' sees him use vocals for the first time, multi-tracked to create the aura of a Welsh Valleys choir.
Your compositions are so captivating. What inspires you to start a project or a track? 
Thank you. That's very kind. I'm not entirely sure what inspires me. It tends to happen over a number of days. I start feeling the need to compose and the longer I wait the more frustrating it becomes! But then sometimes it's hearing someone else's music that strikes a chord and reminds me that I am a composer and artist and not just someone who supports, promotes and advises other artists!
What was it like creating 'Alternatives To Despair' in a global pandemic? Was it harder to create or somewhat easier due to time? 
Well the title was my reference to the pandemic because I could see so many of my friends were finding it really tough, especially if they live alone. I felt I was lucky, having a wonderful wife and 20 year old son and the safety net of some external funding. As a moderator for Fresh on the Net and a radio show host, I was heartily sick of receiving songs with titles like Lockdown Blues and kept thinking 'for heaven's sake, try to be at least a little bit original', lol! So I didn't want to be a hypocrite with my own music. Anyway, I had been taking my handheld digital recorder out with me when walking around the local area and I had all these recordings of sounds I could derive pitch from – construction machinery, sirens, bus engines, alarms, leaf blowers etc. – so I wanted to start combining those with some notated music to create something new. And I wanted to incorporate vocals – no actual words – just 'Ah's' in multi-tracked harmony to create that male voice choir aura. So it came together over a month or so of sporadic writing and recording sessions in between all my other activities. I think listening a lot to the new Julianna Barwick album also had an influence on my writing.
Where did your love for such soundscapes come from? 

I think it comes from growing up on a housing estate adjacent to a large, noisy industrial estate in the late twentieth century, spending large chunks of the school holidays at my grandparents' home in a Welsh mining town and then living in South East London for the past three decades where there is always some sort of industrial or other environmental noise. It no doubt explains partly why I was always drawn to artists who utilised sound like Kraftwerk, 23 Skidoo, Cabaret Voltaire, Brian Eno and Hip Hop artists like Public Enemy. Now it's the likes of Kate Carr, Emily Hall, Katie Gately and others.
So, you also run the Trust The Doc! Tell us a bit more about your platform. 
Trust The Doc started as a little blog about new music because I'd joined the Fresh on the Net team and was suddenly receiving all these tracks every week. Then I realised that, if I tagged the artists I was writing about, they would market the blog for me by sharing it all over socials. So then I developed a playlist and, when I got back into promoting gigs, I'd have the playlist playing between the live acts and I'd put copies of it on all the tables! I already had a feature on a show called the Monday Night Ride Out on Exile FM named after my regular live event Vanishing Point. Ming & Jon, who present the show, manage the station and were trying to persuade me to have my own show. So when I got Arts Council funding, I launched the Trust The Doc Radio show and, to my amazement, it just took off and the audience figures soared. Now it's a gathering point for lots of people in our independent music community who banter one another and me throughout. The show focuses mainly on new music but includes well known acts and features that allow me to play a few older tracks too so people have enough to keep their interest. When the first lockdown struck, I had to cancel a load of gigs and two festivals which was awful but I had to do something to continue giving exposure to new and emerging artists so I launched Trust The Doc TV as a magazine-style show with individual tracks – a mix of live lockdown performances, new videos and interviews. Now it's a YouTube channel with more content on it and the original programme is now Upstream. I also promote gigs as Trust The Doc Live. And I still publish the blog on the last day of every month and now it has a readership of hundreds which is awesome. It covers everything from classical, jazz and electronic music through to Indie, Urban, EDM, Synth Pop, Folk, you name it! And it's set out in sections with a contents page to make it easier for readers.

You've said each part of 'Alternatives To Despair' links to some key stage of your life. If you had to choose, which would be your favourite part and why?
Hmmm, well I have to say my current life is the happiest. I'm in my 28th year of marriage with a wonderful son too, making a full time living from writing, promoting, broadcasting, reviewing and writing about music. So I have 'made it' in the true sense and am doing what I love. But there are good and bad memories from all these stages. I miss the days when we hung out in Abercynon at my grandparents' house, especially spending time with my brother, who we lost to cancer in 2019, and my cousins. I don't really miss Hemel as such and I am still friends with most of the people I was close to back then anyway but there were fantastic times there in among the not so fantastic ones! Really though, it was when I moved to London in the late eighties that life became more exciting and I played in bands that had minor record deals and performed at cool venues. A lot of history but most of it in the past thirty years.
Any future plans you could hint to? Any tracks or projects we should look out for? 

One thing I am determined to do, when we have the green light to get live music back on the agenda, is play some gigs as Neil March & The Music of Sound. I have been quietly recruiting a new line-up to play with me when that happens. It will be the youngest and most diverse version of the ensemble yet but it will be musicians I know and trust. As things stand, it will probably be an all-female line-up which is interesting considering that, when I played the BBC Introducing Stage at Latitude in 2017, it was all male! Otherwise I will be composing more music soon and possibly collaborating with others on some tracks if and when we get the time. And obviously I will also be putting on lots of live events for others to perform at including two festivals.
As well as creating music, Neil also curates and presents Trust The Doc TV and Trust The Doc Radio. The radio show broadcasts on Exile FM. He promotes the Trust The Doc Live events and the regular Vanishing Point gigs. Read Neil's discography here.
Neil plans to resume his live music itinerary with his ensemble The Music of Sound, COVID allowing, in 2021.
Check Out Neil March on FACEBOOK | INSTAGRAM | TWITTER
Listen to 'Alternatives To Despair' on SPOTIFY HERE