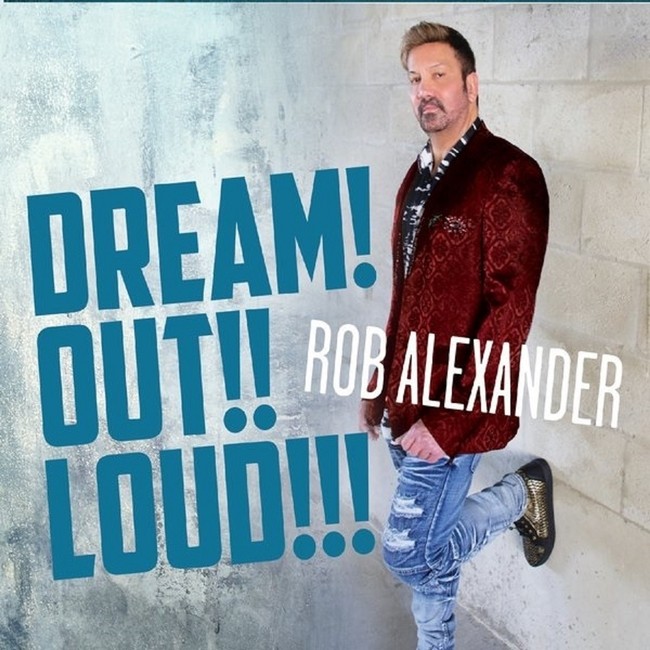 Rob Alexander is a healer in all aspects of his life, from his dedication to medicine to the studio he dominates with his decadent lead vocal, and never has this been any clearer than it is in the new single "A Song to Get Us Through." Stylized as an old fashioned power ballad with a brand new breath of life supplied to its most melodic of components, "A Song to Get Us Through" is every bit the centerpiece of its parent album Dream Out Loud you could ask for, and it definitely represents the core aesthetics of the LP marvelously. Through its bluntly human lyricism and the humble tone in which it's being presented to us to the very stitching of the sonic fabric backing it up courtesy of a gorgeous string harmony, this track is Rob Alexander at his best – and perhaps most accessible to date. 
It's easy to initially peg "A Song to Get Us Through" as another COVID-inspired single when studying its general narrative from a poetic standpoint, but personally I found the depth of self-awareness it references on the part of Alexander to be too deep for such a simple branding to withstand. There's more to the story here than wanting to break free from the isolation between our protagonist and his desires; there's a sought after kinship with humanity itself at stake, and the battle is one being fought through a lot more than geopolitics. This is a man breaking out of his shell and revealing a color to us as gorgeous as his gliding stride towards this chorus is.
HEAR NOW: https://robalexander.hearnow.com/
The string play in the mix inarguably draws as much of our attention to the song as the lead vocal does, and I actually think it was essential to give the guitar parts as heavy a presence as they've been afforded here. Alexander isn't straddling the groove in this track as much as he has some of the other singles he's cut in the past (and even the songs accompanying this one on Dream Out Loud), but instead letting his own harmony with the instrumentation set the pace for everything. It's a bit experimental, and potentially more demanding a task than he's been given in the studio before, but he nonetheless rises to the occasion in true professional style. 
Compositionally speaking, I think it would be a disservice to Dr. Alexander for me to call "A Song to Get Us Thorough" anything other than his very best piece of work to hit record stores and streaming sites thus far. Without having to sacrifice any of the indie integrities that have become critical to his gaining traction in the American underground in the last couple of years, Rob Alexander effectively ascends to a higher class of songwriting skill and performance luster here, and I don't think it would be wrong to say he's set the bar awfully high for himself and the competition as a result. "A Song to Get Us Through" is his new gold standard and a fabulous means of connecting with the audience at a time in history when listeners really need the collective validation of meaningful (and relatable) songcraft. 
Gwen Waggoner